Dogs are very much like humans, rewards go a long way in teaching and learning. This is why so many people often use treats to motivate dogs to learn faster. Have you been trying to teach your French Bulldog to fetch? Have you tried teaching them to roll, sit, or shake hands? Are you getting no results? It's time to try reward-based training – with treats!
There are so many dog treats out there in the market. But how do you know which is the best one? Dogs like French Bulldogs can be picky with their goody. Even if you end up buying the most luxurious treat, they might not budge. Don't waste your money on treats your French Bulldog won't entertain. We have the perfect selection for you! Just keep reading.
Why Should you use Treats?
While you should not make treats the only way to train, it can be quite helpful! Treats are delicious snacks your dogs can't resist. If you want them to learn something, one of the best ways is to lure them with treats. When they perform something you ask for, give them a goody. It makes them think they did something right to deserve it.
Most professional dog trainers use treats. The quality of treats matters as well. Most dogs don't like all delicacy. There are certain ones your French Bulldog will absolutely love. You need to know which treats these are. The fastest, quickest, and best solution for Frenchie training is using treats.
Giving your French Bulldog a treat will instill a positive attitude and relationship. Every time they do something when you command them, provide them with a treat. You will most definitely see positive results. Along with treats, positive reinforcement like praises and pets goes a long way. Here is a list of some dog treats your French Bulldog will not be able to resist while training!
Best Training Treats for your French Bulldog
1. Zuke's Naturals Dog Treats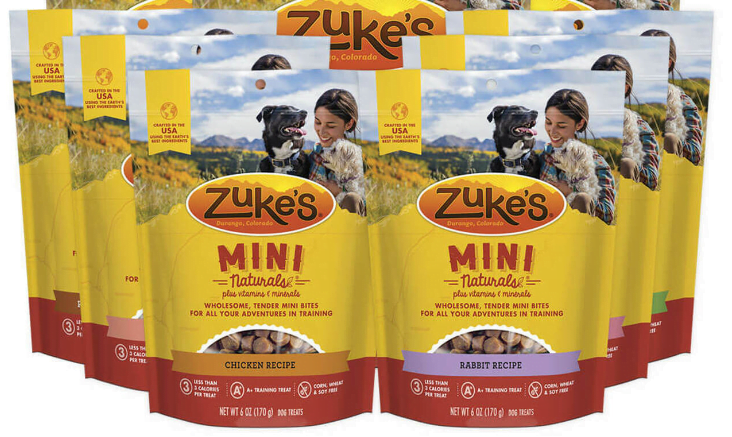 Have you tried looking for training treats for your French Bulldog without any success? Are you tired of buying snacks your French Bulldog does not like at all? Well, we have the perfect solution to your problem. Have you ever heard of the Zuke Mini Dog Treats? This is a game-changer, your French Bulldog will absolutely love this training treat.
The best thing about this training snack is that it comes in multiple flavors. Yes, you can feed your French Bulldog different flavors of treat. This means your Frenchie will not get bored by it easily or quickly. Whenever you train dogs, you want to keep them interested and attentive, and this dog treat certainly does that.
As a pet owner, you must also always go for excellent and high-quality treats. The Zuke's dog training treats use the best ingredients in their recipe. There are ingredients like berries and herbs. So not only will your training be filled with fun, but it will also be healthy!
These mini and delicious dog treats will also provide your Frenchie with essential vitamins and nutrients. Ingredients that are not good for French Bulldogs, like corn, soy, or even wheat, are not present. It also has very few calories, so you need not worry about weight gain.
Still not convinced? Well, the Zuke's mini training treats are incredibly soft and chewy. They come in the perfect size and are excellent reward treats for your French Bulldog! This training treat is an investment, your dog will learn so much when you motivate it with this treat.
2. Charlee Bear Natural Dog Treats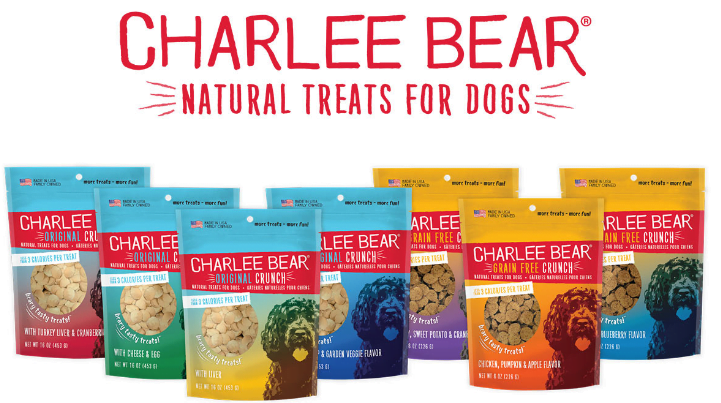 Are you fed up with using ineffective dog training treats? Are the treats you're buying not getting you any progress? If that is the case, we highly encourage that you try Charlee Bear Dog Treats. This is a training treat that you can use on your French Bulldog. It will definitely reinforce positive behavior while training.
The Charlee Bear Dogs Treats are a must-have for anyone training their French Bulldog. This delicious goody comes in different flavors, and your dog will not lose interest. This is a good thing since an attentive dog learns quicker. If you use this treat while training, you are sure to see instant results from your French Bulldog.
Like any good dog treats, the Charlee Bear Dog Treats use natural flavors. There are no harmful ingredients. You do not have to worry about any adverse reactions. All the ingredients are safe for your French Bulldog to consume. And the best thing? It works with all ages of dogs.
Ingredients of Charlee Bear Dog Treats
You will not find wheat, soy, or even corn anywhere in this treat. These ingredients increase the calories in the training treats. So if you want a fit, healthy, and intelligent dog, try the Charlee Bear training treats. This fabulous low-calorie treat is bound to make your French Bulldog happy and satisfied.
When you train your dog, you do not want to indulge them. Giving them heavy snacks will only slow your progress, and it is not healthy either. This is the reason why we highly recommend the Charlee Bear training treats. They are small, perfect for training purposes.
If you are looking for progress, this treat will definitely get you there. Your French Bulldog's training should be fun and healthy, and Charlee Bear treats provides just that! This crispy, crunchy, and mouth-watering dog treat is a training essential! If your dog isn't a quick learner, this delicacy will surely change that.
3. Purina Beggin' Meat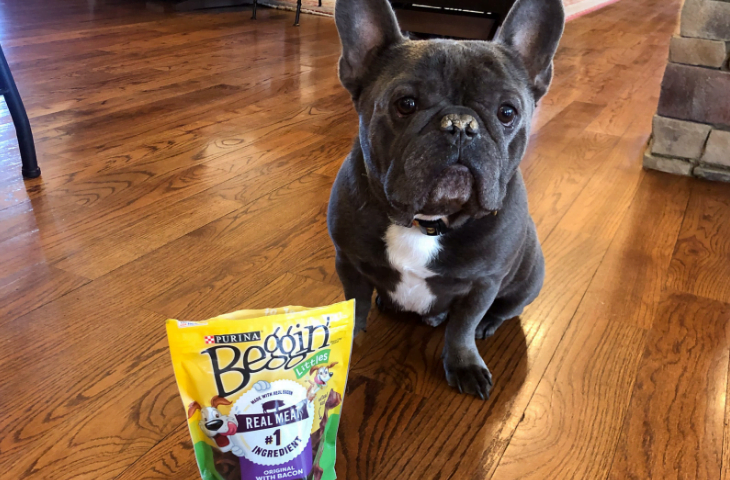 Training a French Bulldog can be difficult sometimes. It gets more difficult when you don't reward them. Almost all dog training requires some form of reward or positive reinforcement. Well, you are in luck! With the Purina Beggin' Meat Dog Treats on your side, your French Bulldog will learn all the tricks you have in store.
Dogs, in general, are fussy with certain treats. They either like it, or they don't. If you end up buying the ones they don't like, you waste your money. That will definitely not be the case with the Purina' Beggin training treats. Crafted using real meat and an array of flavors, your French Bulldog will be ready for training.
Most dog training treats come in different sizes. The Purina' Beggin Meat Dog Treats also come in different sizes. This makes this product highly useful because you can test it on your French Bulldog with smaller packets. But the chances of your French Bulldog not liking this treat is slim. With natural bacon flavor, your French Bulldog will obey every command.
The dog treats these days come in so many flavors. This is a good thing to spice things up occasionally. If you keep feeding your French Bulldog the same flavor over and over again, they might get tired of it. The good news is the Purina Beggin' Meat Dog Treats also has a wide selection of flavors. So if your dog gets bored with one flavor, switch to another!
Will Purina Beggin Treats Helps Train French bulldog?
This product is superb for training purposes because it uses real meat as its core ingredient. No dog can resist the smell and aroma of meat. This treat will surely capture your dog's attention, making them learn faster. Training does not have to be boring, with this treat, you'll enjoy every step of the training process.
If you are looking for artificial flavoring in this treat, you won't find any. All the ingredients used are natural and genuine. Do not worry about your dog's health with this treat, there are no artificial ingredients. Not only will your training process be quick and fun, but it will also be healthy every step of the way!
One of the signs of good dog training treats is their sizes. If it is too big or too chunky, it is not that great. With the Purina' Beggin Meat treats, you do not have to worry about chunky treats. The sizes of this delicacy are perfect for your French Bulldog's training. They are also incredibly soft, chewy, and tender.
Toss your French Bulldog a Purina Beggin' Meat Dog Treat every time they show positive results. This will definitely make the training process worthwhile. These delicious and soft training treats are extremely useful if you are planning on training your French Bulldog. Want to see positive changes? Go and get yourself this fantastic product!
In Summary, Goody for French Bulldogs
It is not an uncommon sight to see people feeding their dogs treats while training. In fact, it is an entirely normal behavior. Not only is it normal, but it is also highly effective. Dogs tend to learn faster when you give them goody. But the question is which treats?
The products we have listed are all fantastic! If you are about to start training your French Bulldog, consider one of them. Dogs are not fond of every treats that are out there in the market. If you buy a treat they don't like, training might be slow, and also it might not be effective. But with our recommended training treats, you will not be facing any of those problems!
We are truly thankful for visiting ourFrenchie site!
Was This Helpful?
Be honest and help us become better to our readers! 🙂