Usually a fat French bulldog results from overweight due to overfeeding or lack of exercise, resulting in excessive weight or fat issues. Are you worried if your French Bulldog might be a little too fat or is getting heavier? Well, don't worry. This article will help you to understand basic information regarding your Frenchie's health.
Before we Dig in Fat French Bulldog
Before getting started with the topic, let's get to know a few things about French bulldogs.
The French Bulldog is a domestic dog most commonly known as Frenchies. Their behavior is friendly and mild-mannered, one of the fourth most famous dog breed registered by the AKC.
They are classified as non-sporting dogs by the AKC and companion dogs by the UKC.
French bulldogs come in different shapes and sizes, from small to medium-sized. The standard weight of a French bulldog is under 28 pounds. Generally, a male Frenchie weighs between 20-28 pounds, and a female weighs between 16-24 pounds. Their height is about 11-13 inches tall.
French Bulldogs are a great companion. But it is essential to take proper care of their diet because they are prone to obesity.
Signs That your Frenchie is Fat
Frenchies tend to have a great appetite and loves a good treat. They do not know when to stop eating, which often leads to weight issues.
If you love giving treats to your dog, you should do so in moderation.
It is vital to monitor and know when your fat French Bulldog is suffering from obesity before it leads to long-term health issues.
You should always pay attention to the regular habits your dog shows. If they show a certain discomfort, it should alert you that they might be showing symptoms of health problems.
So what are the signs that you should look out for?
When your Frenchie weighs more than the recommended weight, the dog is likely overweight.
If you notice that your dog is less active and gets tired quickly, it could be a sign that you should help your Frenchie to lose some weight.
Frenchies are famous for their bat-like ears and short wrinkly nose. They are small compared to other dogs but require great care and grooming.
Check These Simple Steps to Know if your French Bulldog is Overweight:
1. Unable to feel the ribs
How do you do it? Gently place your hand on your Frenchies chest, and apply a small amount of pressure to see if you can feel its ribs. If you can feel it, the dog is fine and healthy. If not, your dog might be overweight.
But, if you can see its ribs, then your dog might be unhealthy.
2. Quickly exhausted and often lazy
You know your Frenchies regular habits. Suppose you notice that your dog is unable to run or do activities normally. Then, it would help you to realize that your dog might be showing symptoms of obesity.
A fat French Bulldog will not show any interest in physical activities.
You should pay attention to these details as it might put a risk on your dog's health.
3. Unable to scratch or lick themselves
Dog's usually scratch themselves and licks their body parts.
If you notice that your Frenchie is not flexible enough to scratch its ear or lick its toes, your French bulldog is overweight. Because a healthy dog should do these activities without difficulty.
4. Breathing heavily
French bulldogs are known for heavy breathing because they have a narrow nostril, which might not be a symptom or related to weight issues.
But if your Frenchie shows symptoms of heavy breathing or overexertion while sitting or lying without any physical activities, it should alert you that your fat French Bulldog is overweight. You should also take some factors into account, like weather conditions or if the dog is excited.
5. Unable to jump
Dog's love to sleep on the couch. The easiest way to find out if your fat French Bulldog is overweight is to notice if your dog can jump on the couch without a struggle.
A fat French Bulldog will find difficulty in lifting its body to jump on the couch.
They will also have trouble climbing the stairs.
These simple steps are helpful and will allow you to understand your dog's health better. You should always take professional help and pay a visit to the professional vet if you notice any of these issues.
It will help you to prevent any health risks for your furry friend and give them proper treatment at the right time.
How to Prevent your Fat French Bulldog from Gaining Excessive Weight
Because we care, we are required to take proper care of them. Even slight negligence might put your Frenchie's life at risk. Knowing their health concerns will allow you to prevent potential health risks.
Underlying health problems that your fat French Bulldog faces might be due to overweight.
Some practical ways to prevent your Frenchie from unhealthy health problems and help them live a healthy, longer life are mentioned below.
Ways to prevent your fat French Bulldog from overweight:
1. Healthy balanced diet
Firstly, a healthy balanced diet is essential to help your dog shed extra fats, maintain its weight and keep a healthy body. You should avoid feeding them fatty foods.
Feeding them the right food with the right amount of portion will reduce the risk of obesity or health problems. Check out our article about best dog food for French bulldogs with sensitive stomach. Food for a sensitive stomach will help lose weight and stay healthy.
Foods that contain the high-quality animal protein are suitable for French Bulldogs. Dog foods that have low calories are a great option for overweight Frenchies.
A portion of healthy food and the proper diet will provide health benefits such as strong muscles, better digestion, coat support, increased energy level, etc.
2. Feed them in small quantities
Feeding French bulldog small portions of food a few times a day is more helpful. It would be best if you kept them from getting hungry. Keeping a schedule and feeding your dog according to the time set will show effective results.
And make sure to make it a habit so that he can get used to eating a smaller portion of food every day.
It will help if you try giving them fruits and vegetables like broccoli, cucumbers, apples, carrot, green beans, bananas, etc. Check full list of what fruits and vegetables you can give to Frenchie here.
The lesser you give them treats, the better they are. Switch treats with vegetables like cucumbers. They are rich with vitamins and water.
3. Check their weight regularly
If your fat French Bulldog requires a diet, you should visit a vet and ask for their advice. They should be able to tell you how much your Frenchie should weigh. And it would be best if you kept the target weight in mind.
Checking their weight once in a few days will help adjust their diet and keep Frenchie in shape.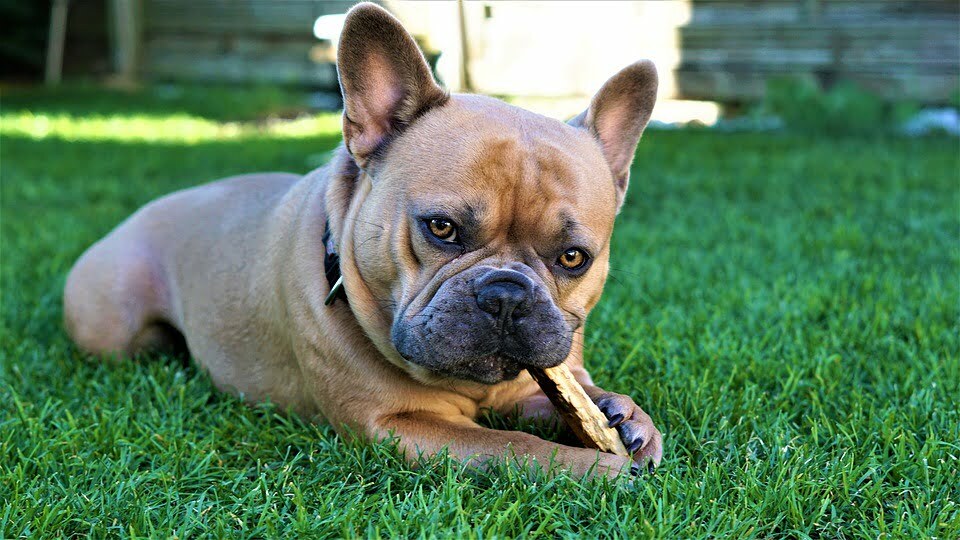 4. Exercising Frenchie regularly
Frenchies love playing outdoors. They are always ready to play and are a great companion. Taking them on a walk will help you and your Frenchie to lose weight and stay fit.
They don't require heavy exercises, but it is essential to take them for a short walk regularly. Or longer but slower walks.
Too much exercise for an overweight Frenchie might put danger to their health. It would be best if you did so in moderation.
5. Give them toys
Frenchies putting on too much weight might be lazy and refrain from doing physical exercises.
The great idea is to give Frenchie toys. They like toys as much as kids do.
A small amount of playtime with their toys will help in keeping them active.
Lastly, their diet and exercise depending on their age and weight, is to be checked. Frenchies quickly gain weight, so you should pay proper attention to their health details.
The Average Amount of Protein Required in a Day for Frenchie
Protein provides in strengthening their muscles. The food intake differs from their size and age.
The amount of protein needed for a day for French Bulldogs as per AAFCO (The Association of American Feed Control Officials):
Adults: The amount of protein required for a daily diet is 18% protein and 5% fat.
Puppies: The amount of protein required for a daily diet is 22% protein.
Health Risks for Overweight French Bulldog
Just like humans, even animals face health issues if they weigh more than they should. It would put a risk to their life span and can cause a significant health problem.
Although, most of their health conditions are genetic. It does not mean that your dog has them, but they are more exposed to health risks than the other dogs.
Some severe health risks:
Arthritis
Diabetes
Respiratory disease
High blood pressure
Cardiovascular disease
Bone injuries, joint problems
Back pain
Digestive disorder
Once again, always seek professional help before deciding on any health problems for your Frenchie. And receive timely treatment to keep help them from any significant risks.
When Should you Take your French Bulldog to the Vet
You have to take your Frenchie to the vet for regular check-ups. Though they might look fine and healthy, they might suddenly fall sick, leading to severe problems. Most of the vets will tell you how regularly you should come by. Usually it's advised to visit the veterinary once in a half-year or once in the year.
Only your vet can tell when your dog is healthy or lacks nutrition and how often you should visit the vet.
Seven Most Common French Bulldog Health Issues to Look out for
Adopting a French bulldog means taking complete care of them as a parent would do.
A Frenchie being one of the most famous dog breeds in the world. They are friendly and adaptable. But they have health problems.
Proper vaccination would help them from any viral infections or diseases.
1. Allergy
They can develop allergies at any point in their life. There are various types of allergy such as itchy red skin, runny eyes, itchy ears, sneezing, vomiting, etc.
These allergies might be due to food, pollens, perfumes, fabrics, shampoo, fleas, etc.
2. Ear infections
Ear infections are painful for your pet and might cause hearing problems. You have to watch out for excessive ear scratching or redness and check their ear from time to time.
3. Diarrhea
You should monitor your Frenchie's diet as it can easily upset their stomach. It causes due to viruses or parasites which are sensitive to them.
It can cause a severe problem if they start losing weight, vomiting, or fever and loss appetite.
4. Conjunctivitis (Red Eye):
Conjunctivitis is commonly known as pink eye, affecting 3% of the Frenchies. It is caused due to allergy or viral infections.
You should keep a check if your Frenchie has red eyes.
The symptoms of Conjunctivitis are frequent blinking of the eye, swollen eyes, abnormal eye discharge.
5. Cherry Eye
It is also a common eye problem caused when the nictitans gland tears from the eye and pops out in the corner of the eye.
If you notice any such abnormal stuff protruding from its eyes, you should immediately consult a vet. It can cause damage to the eyes if left untreated. Read more about Cherry eye here.
The early treatment would prevent further issues.
6. Dermatitis
Dermatitis is a skin inflammation that occurs with itching, redness, sores, and crust around their folded skin areas. Keeping their skin folds clean and dry will help prevent these problems.
7. Pyoderma
Pyoderma is also another skin infection that occurs when your pet has a wound or gets a cut or scratch to their skin. You have to ensure that your dog is always clean and wipe away the infected areas with a clean cloth.
Although the same breed, not all dog has the same health issues. It depends on their immune system and how strong their immunity is to fight off these infections.
Conclusion
French bulldogs are a great companion and are adaptable to environmental changes. They come with a long list of health problems that adversely affect their health, and hence detailed healthcare is essential for these babies. Any quick abnormal changes in their health should worry you, and you should always consult a vet. Their life span is 10-14 years. You need to make sure that they receive lots of love and proper health care during their short years of living because nothing brings more joy than they do. Monitor that fat French bulldog is not your daily problem and everything else will be more easy.
Thank you for supporting OurFrenchie.com community.
Was This Helpful?
Be honest and help us become better to our readers! 🙂