French Bulldogs are a breed of small size dogs that are adored by people worldwide. They are unique because of their upright "bat ears" and short nose. This breed has become a popular choice among celebrities in recent years. However, its popularity dates back to the 1800s.
Frenchies were favored by the royals and the rich in the past. Their unique appearance made them an attractive choice among other breeds. At present French bulldogs are preferred because of their calm demeanor and intelligence. French bulldogs are friendly, easy to maintain, and are good watchdogs.
History of French Bulldog
The first French Bulldogs looked at little different from the modern Frenchie. Their popularity began as a toy-sized bulldog among lacemakers in Nottingham. Soon after, these Bulldogs became the mascot of the lacemakers. During the Industrial Revolution, the lace makers moved to France and took the dog along with them.
These little dogs immediately became famous and were crossbred with other purebreds like pugs, terriers over the decades. They were named as Bouledogue Francais. They became the stars of working-class Parisian society. By the late 19th century, the French Bulldog's popularity spread across America and Europe.
French Bulldogs were nicknamed as "dog bouboule" before. Bouboule was a term used to describe humans or dogs with a podgy, ball face, and physique.
Frenchies were first depicted in paintings by artists such as Toulouse- Lautrec. His pastel painting showed a bouboule that was owned by Mme in 1897. Other famous artists such as Boris Kustodiev, Degas, Carl Reichert, and others took inspirations from French bulldogs for their artworks.
Famous French Bulldogs of All Time
Peter The Frenchie
There are French Bulldogs like Peter who succeeded in living like a Royal in history. King Edward VII had a Frenchie called Peter, who was his lovely friend. The King loved hunting and used to take Peter along with him every time.
Russian Frenchie "Ortipo"
Ortipo was a French bulldog owned by the daughter of Russian Emperor Nikolai Alexandrovic Romanov. The Romanovs were another Royal family that valued French Bulldogs as their companion. Ortipo was a gift to Tatiana by an officer recovering in a hospital. The palace guards sadly killed Ortipo because of his constant barking.
"Mutt" From World War
An interesting fact about French Bulldogs is that they were used as delivery dogs. Mutt was one such French Bulldog who used to deliver goods during the First World War. He would deliver cigarettes to the soldiers and even gave them moral support. Mutt was wounded twice during the war. He survived the war and safely returned to the USA.
Roika
Roika was a French bulldog who was regarded as the most popular French Bulldog in the Soviet Union. He belonged to the daughter of the famous Russian bass opera singer Chaliapin. Chaliapin liked to be painted next to his favorite dog breed.
The earlier French Bulldogs had a different body structure that suited the harsh winters in Russia. They had long legs that kept their stomach higher from the ground. The longer muzzles help them to breathe in the warm air as they inhaled.
Pop Artist's Andy Warhol French Bulldog "Moujik"
Moujik was the name of both the French bulldogs that Yves Saint Laurent owned. He was a great admirer of French bulldogs. He designed the season's greeting cards with his pet on them for over twenty years. The French designer asked the famous American pop artist Andy Warhol to paint his Frenchie Moujik II. The portrait became the last portrait by Warhol just a year before he died. Moujik was the only dog to be ever painted by the famous Andy Warhol.
Andy Warhol used French bulldogs as an inspiration for most of his artworks. The unique appearance and attractiveness of the Frenchie made it an obvious choice for him.
Pickle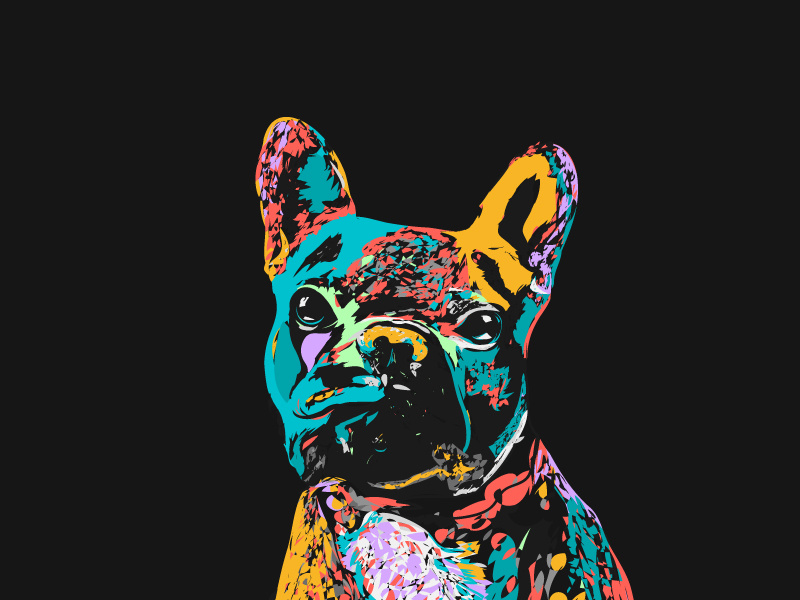 Pickle is the most famous French Bulldog in the art world at present. This Frenchie loves taking pictures in front of famous artworks and can sniff out floor sculptures and figure them out. She has posed in front of DeWain Valentine's "Circle Amber-Rose," a luminous resin work from the 70s, Richard Serra's sculpture "Equal" and other masterpieces. Pickle even staged a protest during New York's Frieze Fair since the fair denied pets' entry to see the art. Pickle has become a fixture in the art world and continues to explore her art adventures.
Modern day "Manny" The French Bulldog
Manny, the French Bulldog, is one of the most popular Frenchies in the world today. His popularity comes from Instagram, with over one million followers, which is increasing by the day. Manny was born in California, is five years old, and currently resides in Chicago.
He is involved in various philanthropic activities. Manny donates to a list of animal and dog-related charities such as the French Bulldog Village, French Bulldog Rescue Network, and others. He even has a clothing line and a merchandise range under his name.
Izzy The Frenchie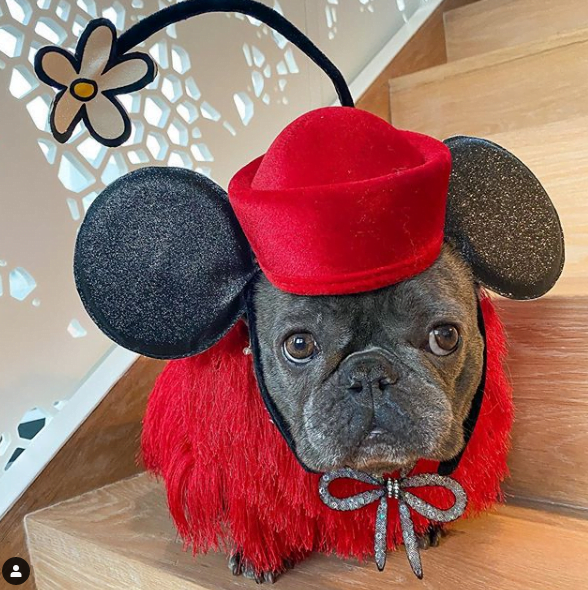 Izzy recently made history when the mayor of Nashville proclaimed August 26th, 2020, as "Izzy The Frenchie Day." Her fans love Izzy because of her unique personality and iconic fashion style. No other dog on Instagram can pull off a pair of shades the way Izzy does.
She has over 830k followers and lives in Washington, D.C. Izzy garnered mass media attention from TMZ, Daily Mail, Vanity Fair- France for her marriage to Whoopie Goldberg's granddog. She even featured in Vogue Magazines and the front row seat at New York Fashion Week.
Singing "Walter"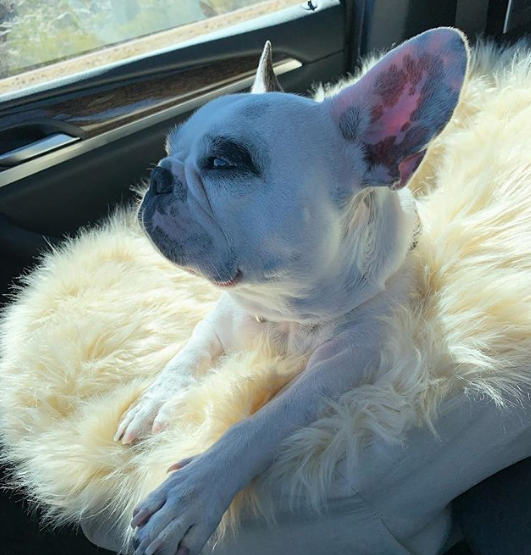 Walter is an Instagram famous French bulldog that has over 723k followers. He goes by the Instagram handle @waltergeoffreythefrenchie. Walter describes himself as a motivational speaker and lives in meltdown city @ the corner of emotionally unstable and overly dramatic. He has partnered with dog food brand "the farmers dog" to share his famous beef recipe with the world. Walter now has a younger sibling called Bish.
Conclusion
French Bulldogs have continued to be one of the most popular breeds for decades now. Their unique coat colors and the expensive price tag make them a prized possession among celebrities. They take fourth place on the American Kernel Club's most desirable list.
Was This Helpful?
Be honest and help us become better to our readers! 🙂