Cool, Comfortable and Affordable French Bulldog Clothes for every taste. On OurFrenchie.com we list most popular and wanted apparels just for your beloved Frenchie pup.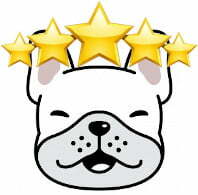 Here you will find from practical and warm winter jackets to cute party outfits. With more than 1000 happy customers we are one of the most popular French bulldog online shops.
No matter if it is a warm spring morning or freezing winter day, your Frenchie will stand out from other dogs. French bulldog clothes like T-Shirts, hoodies will fit for most of the year. Frenchies have a short hair, and often they feel cold. That is why you should definitely have some clothes for Frenchie.
In our shop we have products from various manufacturers. That is why there is no universal size chart. Each manufacturer has their own sizing standards.
As owners of French bulldog we know what to look for. Before we list products we check other owner reviews, affordable, sizing, availability, manufacturer stats and overall material quality. Coolness is another factor for clothing we are hunting.
Lately very popular become dresses for Frenchies and pajamas. We are happy to provide a wide range of products to our visitors. Everyone will find here something valuable and fancy for them.
Average Shipping time: 4-10 business days. One of the best customer service worldwide: Amazon Return and Refund policy.
How to buy French bulldog clothes: Select product you like. Press "Select Size and Color", you will be redirected to Amazon checkout.
Happy Shopping Frenchie Friends!