Why Are Backpacks Necessary for French Bulldogs?
French bulldogs are one of the sweetest pets one can have. It is a mild-mannered breed and a great companion to have. But despite all that, it is quite non-energetic as compared to other breeds. Because of this, engaging in activities such as a stroll around the neighborhood or a short hike up the valley with your furry friend can be quite difficult. This is because French bulldogs have short legs, and they can also have difficulty in breathing after walking for long distances. To counteract that, French bulldog backpack is made to carry your pets with you wherever you go.
These backpacks can accommodate your pets with plenty of room and spaces for them to poke their head out and satisfy their curiosity of the outside world.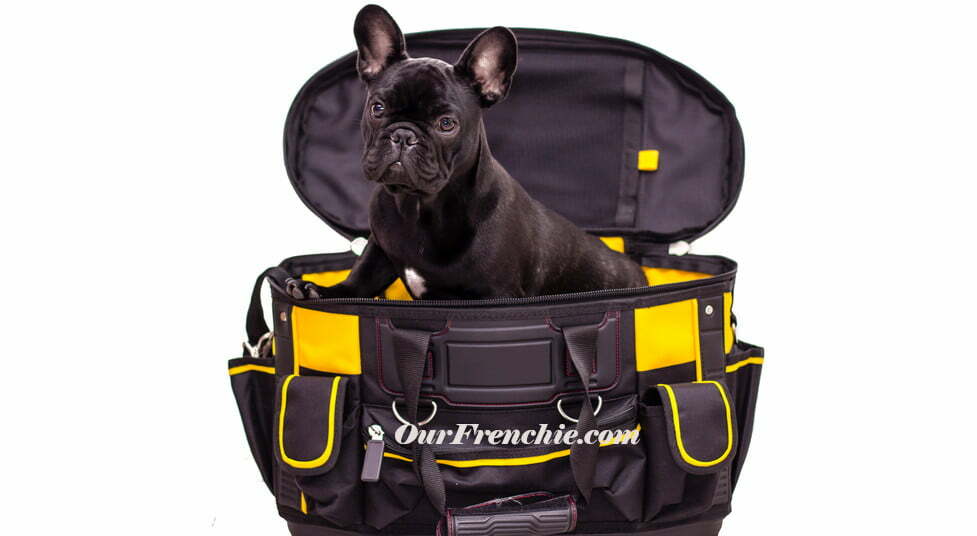 What Type of Backpack is the Best for a Frenchie?
There are different types of backpacks designed for various types of pets. But the perfect backpack for a French bulldog needs to have the following qualities:
The backpack should be breathable enough to do that your dog does not feel suffocated or constricted.
The backpack should be durable and strong enough to be able to carry the weight of your French bulldog.
It would also be preferable if the backpack has an inner latch to secure your dog's collar for extra security in case it gets excited and jumps out of the carrier.
If the backpack is a closed carrier, it backpacks should have a 'window' or an opening for your pet to observe the outside world.
It is also preferable if the backpack can be carried from the front and the back.
List Of Best French Bulldog Backpacks:
1. Adjustable French Bulldog Carrier Backpack
This backpack is the perfect carrier for your French bulldog, especially if it loves the outdoors as much as yourself. It is an adjustable carrier which can be customized to fit your dog's preference and comfort. The material of the backpack is made of superior quality polyester while the sides have mesh borders which will ensure that your pet can enjoy airflow as well. There are two cutouts for your pet's front legs, which will give them some freedom as well. There are straps provided as well to adjust the backpack in order to make it snug and comfortable for your pet so that you two might enjoy the lovely walk together.
The backpack comes in small, medium, extra-large and extra, extra-large.
If your pet is still a pup, it is advisable that you purchase a size bigger.
Also make sure that you measure the chest girth of your dog before you purchase it.
Pros:
The fact that it is adjustable makes it possible for owners to get a larger size and still be able to make it fitting for the pet.
It is durable, adjustable and completely safe for your pet.
Backpack is designed breathable.
The backpack can be used for larger dogs as well, which weigh up to 30 kg.
Extra pockets for any stuff.
Cons:
Few Frenchies find the backpack uncomfortable because there are no cutouts for the rear legs and hence, they feel constricted.
K9 Backpack For French Bulldogs
K9 Sport Sack is specially designed for comfortable dog carrying everywhere you need. Backpack is comfortable not just for owner but also for dogs.
Forget about difficult walk, cycling, skiing or hiking with your French bulldog, K9 Backpack allows experiencing outdoor activities together. Many French bulldog owners found this backpack as the best choice for dog carrying. Price is just a little higher compare to others, but this sack comes with quality and comfort.
K9 Team also offers Karry-On type bags for French bulldogs. Single shoulder bags are in high demand lately.
2. Front Backpack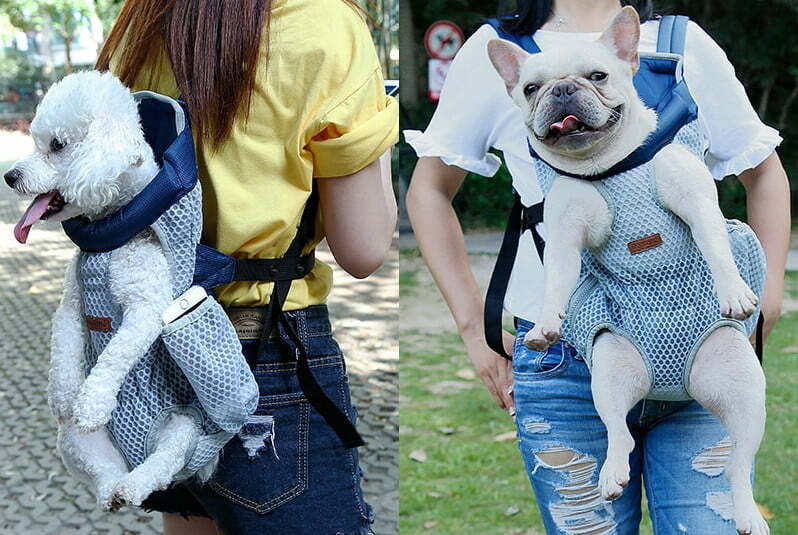 If you are looking for an unconventional backpack, then the front backpack is the right choice. In this case, it works the same as a traditional backpack instead, it is carried from the front. The material of the front backpack is a mix of nylon, mesh and oxford cloth. The back of the carrier has an extra padded form as well as the straps, which are meant to make the wearer and the pet comfortable as well. The carrier also has an extra strap in the middle for a more secure and a comfortable fitting, which is a plus point for both the owner and the bulldog.
The front of the carrier is made of a mesh material, which is for added breathability and comfort for the dog. It also has zippers on the side, which gives easy access for the pet to get in and out of the pack. There is also an extra pocket at the side which you can use to store your water bottle or some snacks for your companion. For extra security, there is a safety strap inside for latching on the dog's collar too. The carrier is available in medium and large.
Pros:
Pets find the front backpack more comfortable as they are offered a sense of security as they can see their owner's faces.
The carriers are available in different colors and design.
In this backpack, the safety strap is a plus point.
Can be used in back of human.
Cons:
Only two sizes are available, which means that larger dogs cannot fit in the carrier.
3. Classic French Bulldog Carrier Backpack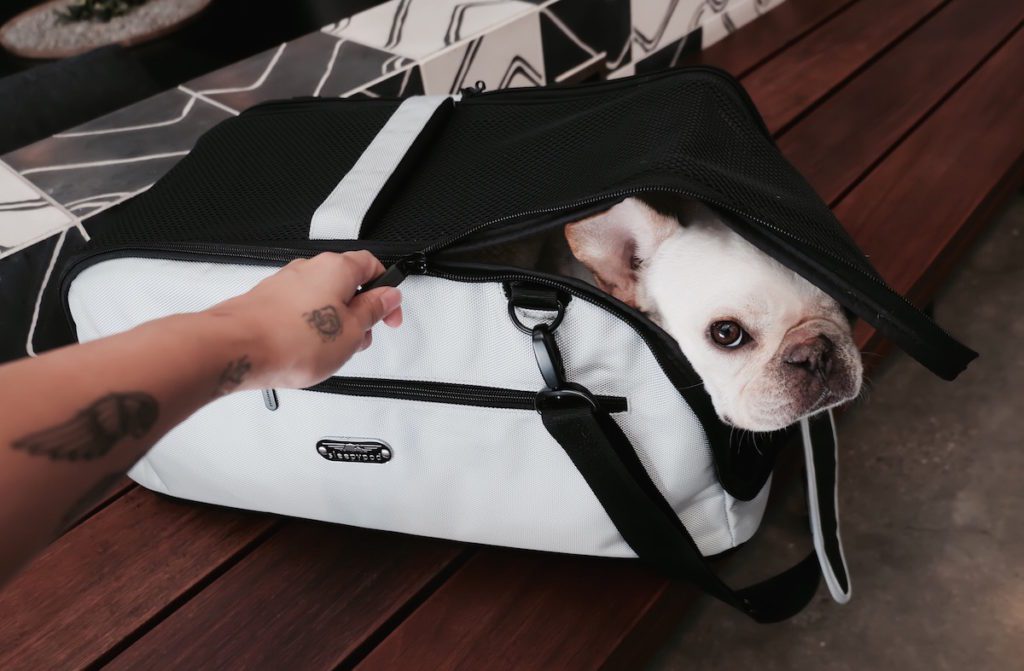 This classic pet carrier is a sling type of bag where the pet can rest comfortably while the owner carries it like an overnight bag. The inner part of the bag has fir type of material which makes it very cozy for your pet especially in the winter. The material of the bag is made from superior material. The stitching is strong enough, which makes it durable enough for the pet to be carried around. The straps are strong enough, which eliminates the probability of breaking while carrying your pet.
The bag is very useful if you are travelling as it keeps your pet snug in one place. There is one cutout where your bulldog can stick its head out and observe the world as it is while keeping it comfortable in one place.
Pros:
It is a comfortable piece of carrier which does the job of keeping your pet in one place safely.
Because of the design and build, it is incredibly portable and useful, especially if you are travelling.
There are lots of design patterns available for this carrier, which will give everyone a chance to choose something unique for their pets.
Cons:
The carrier is available only for small dogs.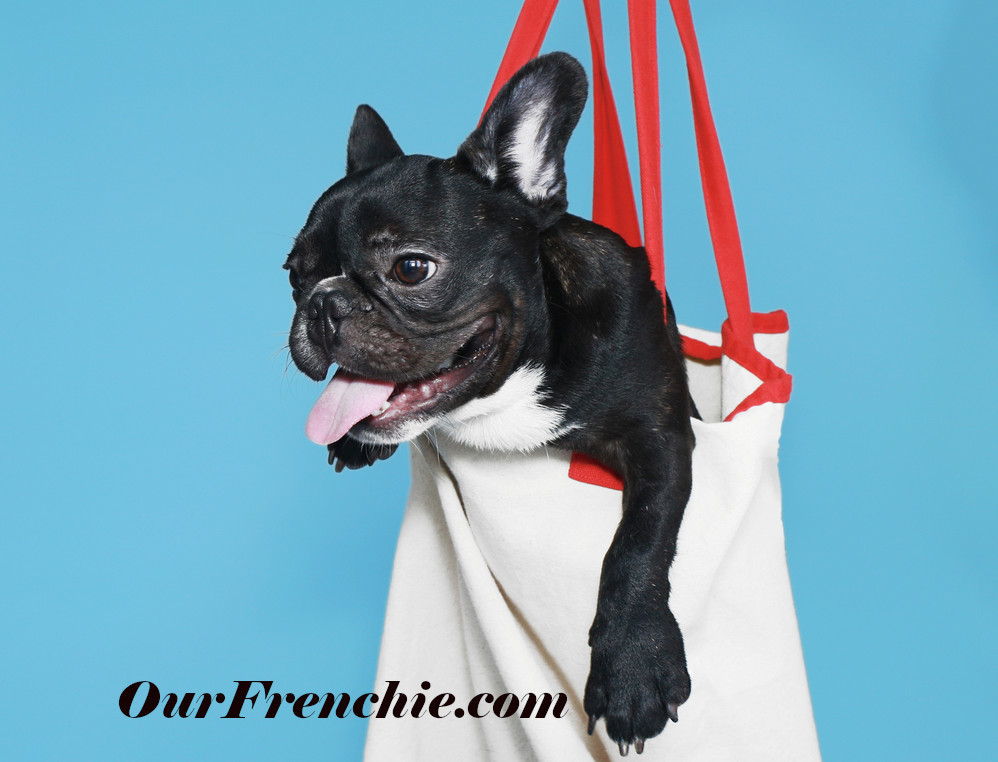 Thank you for reading OurFrenchie.com articles 🙂
Was This Helpful?
Be honest and help us become better to our readers! 🙂