The nutritional needs of a French bulldog are sometimes not met with its everyday diet. Hence, they can be given specialized multivitamins that protect their joints, skin, coat, and digestive system. Apart from adult dogs, puppies and senior dogs are the most vulnerable ones that require a functional and nutrient-enriched (multivitamin) diet to keep them healthy.
If your Frenchie is getting his ideal dosage of vitamins from his diet, then giving him extra supplements is not advisable. But it is seen that usually, Frenchies that are home fed lack certain nutrients that hamper their growth.
The age, weight, breed, and health condition of your dog should be kept in mind before choosing a supplement. Try to make sure that your French bulldog is not allergic to any ingredients used in the health supplement.
The Best French bulldog Supplements: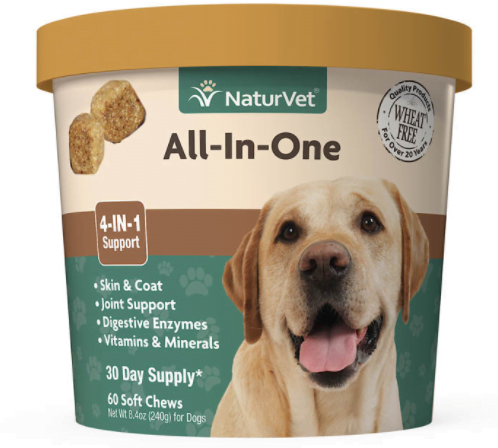 NatureVet's All-in-one are ideal multivitamin supplements that cater to the nutritional requirements of your Frenchie. It promotes proper digestion, better immunity, and gives a shine to the skin and coat of your French bulldog. The inclusion of nutrients such as Glucosamine and Chondroitin makes this soft chew treats a package of excellent nutritional supplements.
These are ideal for dogs above the age of 12 weeks, and the dosage will be decided according to their weight.
Better Digestion. These multivitamins aid smooth digestion with the help of digestive enzymes and protect your dog from having diarrhea, loose stools, and constipation.

Good for Skin and Coat

Joint health

Good Price

Palm oil and other bad ingredients free
Smell. Some dogs may not like the smel
French bulldog owner reviews:
This product gives my French Bulldog his daily needed vitamins in a convenient form that my guy loves. Easy to digest and provides all in one vitamin intake.
I have two french bulldog and is always a mission for me going the right product for them.

They have a very sensitive stomach, and are also very sensitive to strong odors. So far so good they love it, I can tell whenever they see the bottle they run to get the vitamins.
Shocked, he actually eats these. I have tried 2 other multi vitamins and he wouldn't touch them but these he will eat if I break into small pieces. He has a lot of allergies but no problem with these vitamins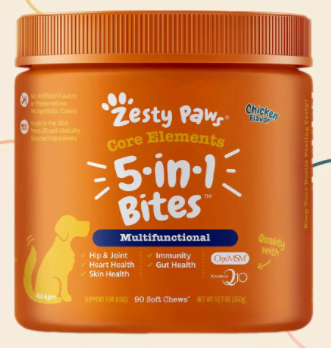 This 5 in 1 multivitamin supplement from Zesty paws offers a wide range of nutritional needs to your pet. Especially for joints and coat. These chicken flavored soft chew treats provide almost 35 essential vitamins and minerals that cover the overall health of your dog.
This is an excellent option for any canine of any age, breed, or weight. Probiotics, preventative vitamins and digestive enzymes will help younger dogs with more energy, while older dogs will benefit from the heart and joint health.
Joint health. Contains OptiMSM, Glucosamine, and chondroitin work brilliantly to provide excellent hip and joint care to your pet
Digestive health. They contain niacin, digestive enzymes, and probiotics that protects the intestinal tract of your pet. It is an excellent choice for those pets who suffer gas formation, diarrhea, constipation, and bloating.
Heart and Immune system. These treats contain KanekaQ10, which is a pure Coq10 compound that takes care of cardiovascular health. While vitamins A, C, and E release antioxidants that give a boost to the immune system of your French bulldog.
Skin and coat. It contains Cod liver oil and vitamin E that moisturizes the skin and keeps it itch-free.
French bulldog owner reviews:
I love this product have been using it for over a year along with the salmon oil, both of my French bulldogs love them, so far they are extremely healthy and have the best coats they rarely shed or have gas…..I highly recommend!!!!
My French Bulldog puppy has been eaten this vitamin since two months old, he really loves eat that after each meal. The nutrition inside of bites really helps my puppy keep healthy and happy. I am very glad to find this product and definitely will buy again for my puppy!
We raise French Bulldogs. This is our favorite vitamin. <3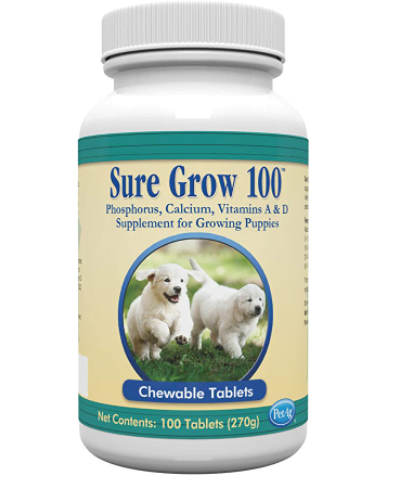 This multivitamin from PetAg are best supplements for your French bulldog puppy. Contains additive-free nutritional supplement that contains 21 nutrients for the overall health of your pet.
Daily multi is a soft tablet that covers a blend of almost 21 nutrients, some of which are usually left out in commercial and packaged dog food.
The supplement is made under the supervision of veterinarians so that they can keep your Frenchie puppy at its peak condition.
Perfect for French bulldog puppies

No additives: This supplement is free of corn, grain, and artificial ingredients that may upset your pet's stomach.

Gives diet support

Minerals: The essential minerals in this supplement promotes the proper composition of body fluids, strong immunity, and formation of red blood cells.

Good price
Flavor. Very small percantage of dogs dont like natural smell.
French bulldog owner reviews:
I have two French bulldog, I used it in both of them, it make them developed good and strong. I love it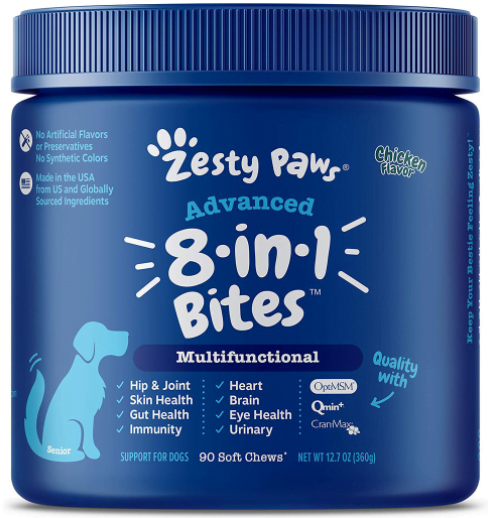 This 8 in 1 multivitamin is an excellent choice to cover the nutritional needs of senior dogs. Senior French bulldogs may be more prone to joint problems, poor vision, or digestive problems, so they need special supplements.
Zesty paw soft chew treats are a blend of vital nutrients such as Qmin+, OptiMSM, Chondroitin, and Glucosamine. These nutrients improve your dog's immune system and enhance better mobility. It is suitable for small, medium, or large-sized senior canines.
Joint health: Blend of nutrients like QMin+, Turmeric curcumin, Glucosamine, chondroitin, and optiMSM that promotes better joints. It also relieves problems that arise from arthritis, which is a common issue with senior French bulldog.

Better Cardiovascular and Cognitive health

Improves Digestion

Protects the Immune system

Skin and Fur: A unique blend of B-Vitamins, Vitamin A and E, Cod liver oil

Improved Excretory system

Naturally derived
Kidney or liver issue: Since the product has Cod liver oil, it is not advisable for senior dogs that suffer from kidney or liver problems

It contains palm oil
French bulldog owner reviews:
Luigi is my almost 13 year old French Bulldog who has had more than his fair share of serious health issues. He is also my best male buddy, and so there is nothing I wouldn't do to help keep him as healthy and happy as possible. So, when these Zesty Paws Senior Advanced 8-in-1 Multivitamins were offered through the Amazon Vine program I couldn't wait to get them for Luigi.

In the two weeks I've been giving Luigi these treat-sized vitamins I've noticed some changes in him in three ways, which have all been positives. One change is that he seems to be walking with a little more "spring in his step" which really pleases me since Luigi has had degenerative disk problems and considerable arthritis for years after overcoming being paralyzed in both rear paws when he was 3 1/2 years old. A second way is that his coat seems to be more shiny and soft and, very importantly, he's eased up a bit on licking his paws. The third way is that it seems to be helping with his sensitive stomach, resulting in the consistency of his stools being firmer/less soft.
My French Bulldogs, ages 7 and 8 loved the taste of these. I loved the fact that it was loaded with healthy ingredients for them. I recommend this product to anyone with an older pet.
Pet honesty's 10 in 1 Multivitamin is a nutrient-packed supplement that provides overall nourishment to your pet. They contain essential vitamins, minerals, omegas, probiotics, and Glucosamine that improves joint health, flexibility, and mobility for your pet.
This multivitamin is derived from natural sources and is steroid-free, which makes it more appealing and ideal. They don't include any form of wheat, corn, sugar, or preservatives and are of premium quality.
10 in 1 multivitamin is manufactured under the guidance of veterinarians in the USA, and it is GMP (Good Manufacturing Practices) certified.
These are available in chicken flavored soft chews, which makes it appealing for your Frenchie.
Power-packed with nutrients

Joint Health: Glucosamine is a vital ingredient in this multivitamin that reduces joint inflammation

Improved Digestion: The probiotics and pumpkin derivatives strengthen your dog's digestive system and reduce the risk of diarrhea, loose motion, and other intestinal problems.

Better immune system

Skin and Fur: The Omega fatty acids promote good skin and healthy fur that is itch-free and moisturized.

Naturally sourced
Contains palm fruit oil

Price: It may be a little expensive compared to other supplements
Pet Parents 5 in 1 multi-purpose vitamin supplement is filled with ingredients that promote better overall health for your pet. Along with a flourishing heart and digestive system, it also helps good skin and fur coats. It will deliver optimum health benefits regardless of the age, breed, or weight of your Frenchie.
These soft treats are perfect for your fur babies to provide them with the right nutrition and energy to be active. Pet parents 5 in 1 multivitamin are manufactured in an FDA, and GMP approved facility so that they can adhere to the manufacturing norms for quality control.
Pet Parent USA 5 in 1 Dog Multivitamin is one of the few products that offer a complete blend of various vitamins and other concrete nutrients that takes care of your pet both internally and externally. They are manufactured under the guidance of leading pet supplement scientists for better quality.
Best Ingredients: These multivitamins are plant and meat-based but don't use rice and oats. They have premium quality active ingredients and also inactive ingredients that are packed with nutrients such as chicken, tomatoes, and carrot.

Powerful nutrients: This multivitamin contains nutrients such as Biotin and Vitamin E that produce Omega fatty acids, which contributes to good fur and skin

Cardiovascular and Digestive health: Vitamin A, C, E, and Coq10 lowers down bad cholesterol and promotes better cardiovascular fitness
Price: They are expensive and may be hard for some pet lovers to afford

Contains Palm Fruit Oil

Uncertain allergies: Some fur pets reported to have suffered side effects such as diarrhea, while some just refused to take them
FAQ
Do French bulldogs need supplements?
Yes and No. Supplements will help your Frenchie grow strong and healthier. Also, each bite will make pup happier and appreciated.
But at the same time, daily dog food might contain all required nutrition for your Frenchie.
Conclusion
OurFrenchie highly recommend NatureVet All in one Multivitamin supplements. Combination of taste and health performance, these snacks were the best ones. Formula made by vets and good ingredients makes these treats top of the top.
Multivitamin supplements provide that perfect dosage of nutrients that your Frenchie requires for overall health and energy. These supplements assure that your pet has an internal as well as external health.
Make sure that you consider your pet's breed, age, weight, any health issues it might have. You should never think of giving human vitamin supplements to your dog, and it may be harmful to their health.
If you see any discomfort or signs of distress in your pet after starting a multivitamin, then discontinue the use immediately and consult a vet.
Apart from some instances, these multivitamins are an excellent choice to give that added nutrition that their diet may not fulfill.
Thank you for reading ourfrenchie.com articles!
Was This Helpful?
Be honest and help us become better to our readers! 🙂