Proper dog ear care is vital for your French bulldog's overall wellbeing. It's a part of professional pet grooming. However, with the right approach and cleaning kit, you can easily clean your Frenchies's ear even at home.
That brings us to the 5 best French Bulldog ear cleaners that'll guarantee your Frenchie a safe and smooth ear cleaning experience. Thousands of pet owners around the globe swear by these products, and we think you'd love them for your furry friend too!
Read through our detailed review of each product and pick one that you think will work best for your Frenchie.
Top 5 French Bulldog Ear Cleaners
1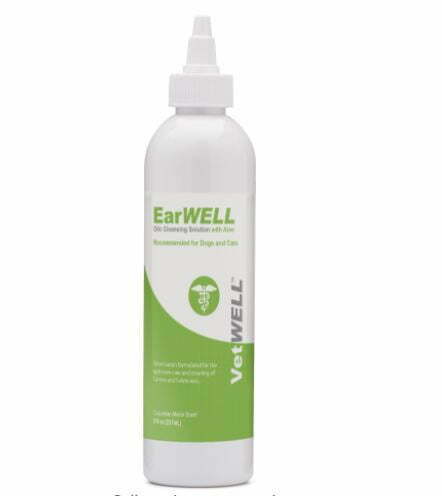 VetWELL Ear Cleaner for Dogs
Check Prices
2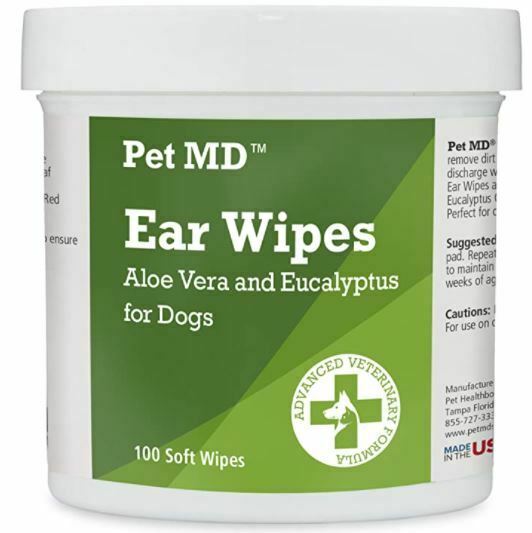 Pet MD – Dog Ear Cleaner Wipes
Check Prices
3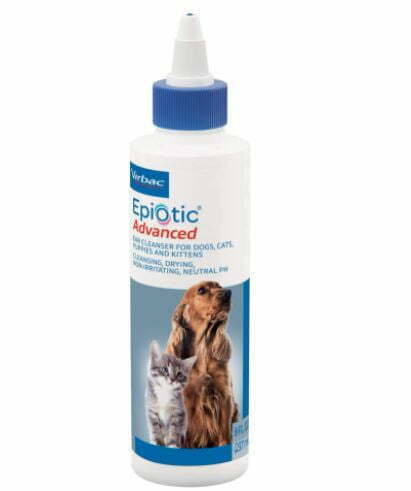 Virbac EPIOTIC Advanced Ear Cleanser
Check Prices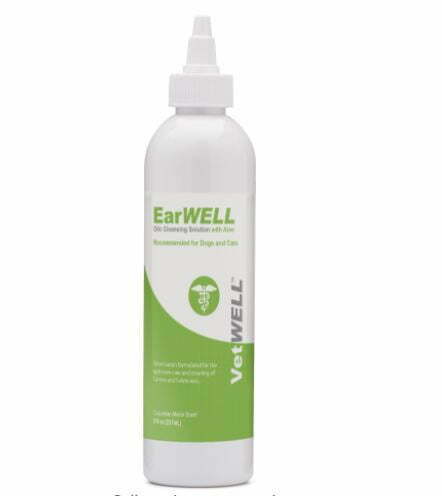 If you're looking for an ear cleaner that's not only effective but smells amazingly fresh too, then the VetWell Ear Cleaner is an ideal choice. It comes in two irresistible fragrant options – Sweet Pea Vanilla and Cucumber Melon. Who can say no to that!
The cleaner is veterinarian formulated that gently cleans and deodorizes your pet's ear. Made from aloe vera, this otic wash will remove any build-up of wax, dirt and debris, and fluid, thereby preventing ear infections and itching.
Lastly, the product is made in the US and passes through stringent quality checks to ensure its quality and safety.
Cleans and deodorizes

Available in two amazing scent options

Affordable

Veterinarian-formulated

Made in the US
May not work for all pets.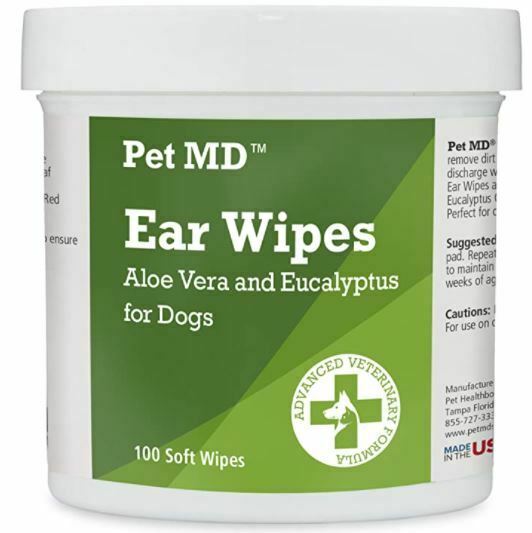 Pet MD has become a household name among pet owners, and for all the right reasons! Since 2008, Pet MD has been providing veterinarian-formulated, innovative, and affordable pet products and their Ear Cleaner Wipes are no exception.
Not all pets do well with liquid ear cleaners, especially ones that just won't sit still. Moreover, if it's your first time cleaning your Frenchie's ear, then ear wipes are a good place to start.
Each bottle comes with a whopping total of 100 sheets of aloe vera and eucalyptus ear wipes. The product is alcohol-free, non-irritating, soothing, and made in the US. It is gentle on the skin but tough on foul ear odor, wax build-up, and debris.
Great for hyperactive Frenchies

Convenient for on-the-go use

Made in the US

Non-irritating and alcohol-free

Vet-formulated
It won't clean as thoroughly as a liquid ear cleaner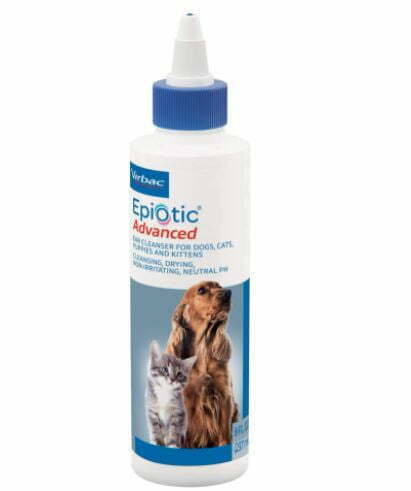 With an almost perfect rating on Amazon, the Virbac Epiotic ear cleaner is a hit among pet owners. And it's easy to see why! It is non-irritating and gentle on your Frenchie's skin – thanks to its low pH formulation. Thus, it is also recommended for pets with sensitive ears and chronic ear inflammation.
Formulated with anti-microbial and anti-inflammatory ingredients, this cleaning solution helps remove dead skin cells, debris, wax and eliminates bad ear odor. You can also use this cleaner regularly on your pup to prevent ear infections and maintain optimal ear health.
Available in two sizes – 4 oz and 8 oz

Low pH formulation

Suitable for pets with sensitive ears and chronic inflammation

Anti-microbial and anti-inflammatory

Best for puppies
Some pets may not prefer its citrus scent (just a matter of personal preference)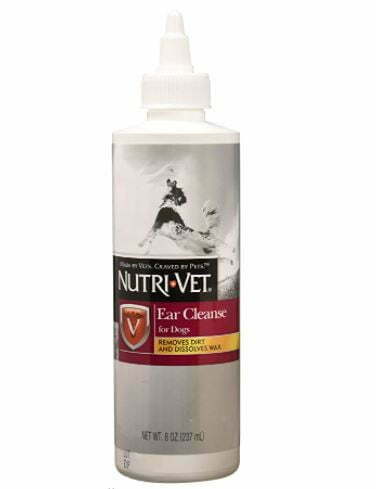 If you're looking for a French bulldog ear cleaner that works well for both adult Frenchies and puppies, your search ends here at Nutri-Vet Ear Cleanse. Made in the US, this product is formulated by veterinarians using a combination of gentle yet effective ingredients.
The Nutri-Vet ear cleanse solution helps remove dirt and wax while simultaneously deodorizing your pup's ears. It also helps prevent itching from fungal infections, eczema, fleas, insect bites, and contact dermatitis.
One happy customer has reported that the cleanser worked exceptionally well for her dog's super-sensitive ears, and many others have raved about its fresh and subtle scent. It wouldn't harm to give it a try for your Frenchie as well!
Super affordable

Suitable for all ages of dogs

Vet-formulated

Cleans and deodorizes
For excess wax build-up, you may have to use the cleaner multiple times.
Alcohol-free and vet-formulated, this ear cleaning solution is suitable for dogs and cats over the age of 12 weeks. This is why the Veterinary Formula Clinical Care Ear Therapy is great for multi-pet households.
It is gentle enough for regular cleaning and helps reduce foul odors, swelling, itchiness, and redness. Of course, this product does a good job of cleaning and drying your Frenchie's delicate ears. However, it is more targeted towards relieving and preventing infections in dogs and cats. Plus, it deodorizes the ear canal in the process.
Great for treating infections and ear mites

Suitable for regular use

Suitable for both cats and dogs

Vet-formulated

Alcohol-free
More suitable for treating ear infections in pets rather than routine ear cleaning
How to Clean French Bulldog Ears?
You should also know that French Bulldog ears are sensitive as compared to other dogs. They are prone to ear infections.
Tools for Cleaning:
Soft cloth or cotton balls
Ear cleaning solution (from above, "Best French bulldog ear cleaner")
Healthy treats to keep their mind occupied
Steps to Clean French Bulldog Ears
You should first calm your dog and choose a less crowded place to clean your dog's ear. Your Frenchie might get distracted and will not stay still.
Before you start, check your Frenchies ear. See the condition, and if it's only dirt, then you can begin cleaning. In case you notice some infection, then you should contact your vet. You have to stop the cleaning.
The next step is to apply the ear cleaning solution to your dog's ear. With your hand, tilt your dog's head gently. Fill the ear cleaner into the ear canal. Your dog might try to move or shake its head. So, try to hold your dog for a few seconds and then allow it to shake its head.
Carefully Clean Ears With Cotton
Now, you should dry your dog's ear with cotton balls or a soft cloth. Don't push too deep and hard.
After the cleaning session, reward your dog with a treat. It will enable your dog to form good behavior. And more importantly, it will set a good tone for future ear cleaning sessions.
See Also: French Bulldog Ears – Complete Guide
FAQ
Do I need to clean my Frenchies ears?
Yes! You may already know Frenchies are prone to allergies. Hence, you need to clean their ears almost regularly to prevent ear infections and excessive scratching.
French Bulldog won't let me clean ears. How to deal?
Firstly, play with them or exercise them to start with less energy. Do the cleaning in a place your dog is familiar with. Be gentle with your pup; you don't want to scare them. You could also use a new bone or large treats to keep him distracted.
How often should clean a Frenchies ears?
Clean the outer parts of your Frenchie any time you find it dirty. For that, you could use the Pet MD ear wipes. When it comes to cleaning the inside of their ears, you should clean it at least once every month.
Closing Note
If you're still here with us, we hope we have helped you find the best French Bulldog ear cleaner for your furry friend. What you ultimately pick from our list depends on your and your pup's preferences. But we assure you that you won't regret your purchase! All the above-reviewed products have worked well for thousands of dogs out there, and we're confident at least one of these will work for your pup too.
Was This Helpful?
Be honest and help us become better to our readers! 🙂