Fleas and Ticks are the two most common problems for your pets. Just like other dogs, a French Bulldog also cannot tolerate fleas and ticks. Once they infest the fur coat, they lay eggs and grow in number and are hard to remove.
These pests can cause allergic reactions, skin diseases, and cause hair loss in your Bulldog. If they are not taken care of, they may lead to severe issues in your Bulldog's health, which can be life-threatening.
Best Flea and Tick Medicine for French bulldogs:
These days, many products are available that help to prevent an infestation of ticks and fleas in your French Bulldog. Let us look at some of these products.
1. Tick Collars: Seresto's Eight month Tick and Flea Collar
Seresto's eight-month Tick and flea collar is an excellent option for your French Bulldog to keep off ticks and fleas from their fur coat. This veterinarian recommended formula helps to kill ticks and fleas on contact and keeps them away for eight months.
This collar from Seresto is odor-free, non-greasy, and easy-to-use. This dog collar has two active ingredients; Imidacloprid and Flumethrin that provides dual-action protection against ticks and fleas.
Some of its features include:
This collar is recommended by veterinarians and is safe to use on dogs seven weeks and older.
It kills fleas and ticks within 48 hours of wearing it and prevents new tick infestations.
The Seresto flea collar is water-resistant and non-greasy. But if your pet takes a bath more than once a month, then the effectiveness of the collar may not last for a full eight months.
The collar's unique polymer matrix contains two active ingredients. One ingredient is Imidacloprid is an age-old remedy to control fleas. Another component is Flumethrin that kills and repels ticks effectively.
Sustained release technology of the collar controls the flow of the ingredients into the fur coat.
It also has a safety release mechanism, which means if the collar gets stuck somewhere, it will release itself without harming the pet.
Another benefit of this collar is that it also kills lice and the larvae of fleas and ticks.
2. Spot-On Treatments
2.1. Vet's Best Flea and Tick Spray
This all-natural and environment-friendly spray is a perfect option to get rid of fleas and ticks from your pet and your house. Vet's Best Flea and Tick spray contain essential oils like peppermint oil and eugenol that kills and repels ticks and fleas.
It is perfectly safe for your French Bulldog and can be used for every corner of your house. You can not only spray the product on to your dog's skin and fur but even on your skin and every corner of your home that may have fleas or ticks. It is completely safe to be used near children.
The formula does not leave stains and needs to be sprayed multiple times to work effectively. It is an excellent choice if you don't want to use harsh chemicals on your French Bulldog to remove ticks and fleas.
This formula from Bayer is a veterinarian-recommended product that kills and repels fleas, ticks, and mosquitoes directly on contact. It also prevents re-infestation and repels lice and biting flies.
Some features of this product are:
Broad-spectrum formula meant for dogs seven weeks and older that weigh more than 55 pounds.
The product starts working within 24 hours of application.
Kills and repels fleas, ticks, lice, flies, and prevents re-infestation.
It has a waterproof formula that is effective for up to four weeks.
It has no smell and usually dries within 2-3 hours of application.
Active ingredients include Imidacloprid and Permethrin that work effectively on the pests.
The product is applied to the skin, so it has no chances to enter the bloodstream of your Bulldog. It will kill the pests on all the life stages, whether they are larvae or adults. It should not be used on cats and can harm children if ingested. Overall, Bayer's Advantix II is an excellent formula for your French Bulldog to protect it from any fleas and ticks and keep it healthy.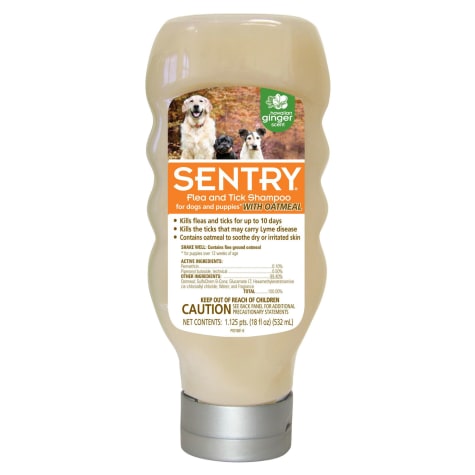 This oatmeal-flavored shampoo kills ticks, fleas, and eggs, and the effects last for at least ten days. Sentry Flea and Tick shampoo is an excellent option for your French Bulldog as it protects, conditions and deodorizes the fur and skin after every wash. The oatmeal in the shampoo soothes and provides relief from bites and itching.
This shampoo balances out the Ph level and is gentle on their body. It has a pleasant fragrance of Hawaiian ginger and does not smell like chemicals. It is perfect for dogs that are 12 weeks and older. Try to avoid the eye area while using the shampoo and give at least 5 – 10 minutes for the product to start working before rinsing out.
4. Oral Medications
Oral medications may seem easy to use to kill ticks and fleas, and they remain active for a few months. But we don't recommend using oral medications on your pets as some of them have bad reputations.
The chemicals used in pills enter your pet's bloodstream and may cause seizures, vomiting, tremors, diarrhea, and even death. So, it is better that you resort to topical treatments to keep away ticks and fleas from your pets.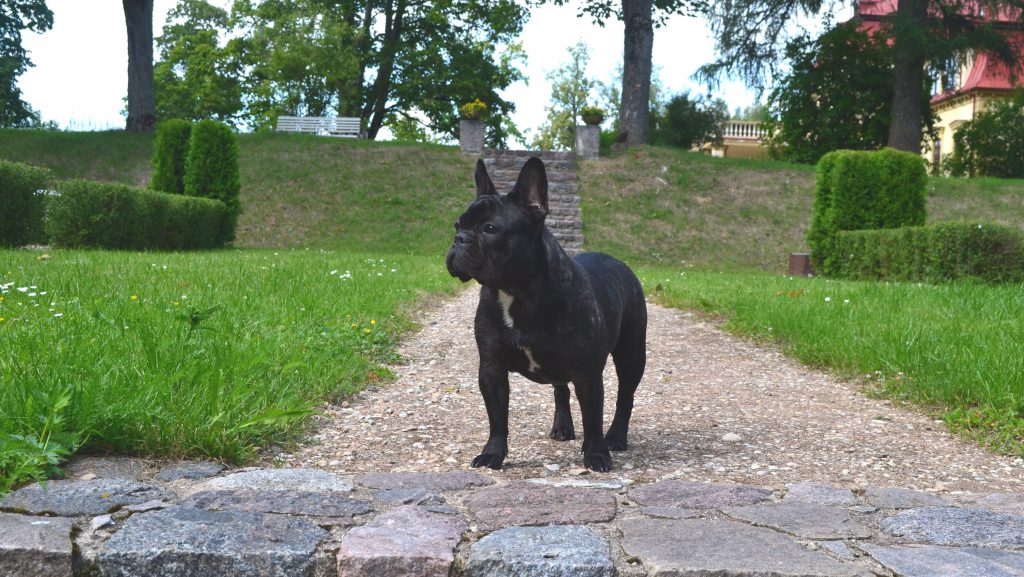 Types of Parasites
Some parasites like fleas, ticks, intestinal worms and heartworm are not only threatening to a dog's health but can also cause your pup to feel miserable. In order to keep Frenchies, here are some guides to prevent parasites.
1. Intestinal Parasites
Our dog can become a victim to a different range of parasites that dwell in their intestinal tract. It is even more dangerous to those dogs who already suffering from gastrointestinal problems. Hookworms, whipworms, roundworms, tapeworms, giardia, coccidia can result in weight loss, diarrhea, anemia, vomiting in dogs. Some parasites have the potential to pass to other dogs or people, due to this it is really important to control them.
As we take care of a new family member like French bulldog, it needs to be dewormed many times, apart from that his stool sample needs to be checked with their vet in the first appointment and thereafter yearly sample check-up is required. You can ask,"I am seeing poop of my dog fine, still I have to go for the checkup". The answer is yes, there are a few poop infections that may not be visible through our eyes.
Parasite eggs are microscopic which usually does not pass into dogs poop as many pass those parasites which are visible through eyes. Cleaning the poop of dog regularly and doing their fecal check-up is needed to prevent them from parasites infection.
2. Fleas
Our dog can become the house of persistent parasites. Fleas can attack any dog that can result in discomfort for the dog in the kind of itchy bites. It can even also impact us.
Some dogs are allergic to flea saliva that results in the flea allergy in them. Flea allergy can cause sores, uncontrollable itching, scabs, discomfort in dogs. The best way to check the presence of fleas on your dog is to make him stand on the clean white color towel, and rub their fur using your hand. If some black or pepper like substance called flea dirt falls and becomes red on wetting the towel with water, it means your French bulldog are suffering from fleas infection.
The best way to prevent fleas from attacking your dog lies in the fact of where you live and what is the social schedule of your dog. If your dog is meeting his dogie friends frequently or stays in daycare dog center or attends boarding. In that case, chances of getting attacked by flea increases. The best remedy to prevent flea is to give flea prevention monthly from Vet or you can use household treatment by ensuring its safeness to kill flea eggs or larvae.
3. Ticks
Arachnid species are widely known as ticks, which are diminutive heat-seeking missiles. They are experts in feeding themselves on the warm body.
They usually found on the tall grasses, leaves or branches by keeping their legs outstretched. When any dog passes by these things, they attacked them. Ticks find a suitable place on your dog to feed themselves. Once they are done with their food, then they drop off. They are not good for your dog, they can transmit some diseases like ehrlichiosis, Lyme or rocky mountain fever.
During Summer, spring, warmer climates or after any outing always check your dog for ticks infection. Pay attention to their armpits, area between their toes, ears, these areas are more likely prone to infection. Use a pair of tweezers to grip and pull them gently from the body of the dog.
Always make sure you have removed their mouth parts.  After removing them, clean the area using warm water and apply soap thereafter. If you want to protect your Frenchie, read our review about Anti Flea and Tick Collar here.
4. Heartworms
Some owners are not aware what single bite of mosquitoes can cause to the dog, especially heartworm. Mosquitoes larvae that pass into the bloodstream with time can result in the development of an adult worm. Adult worms start reproducing themselves in arteries, especially around lungs and heart. If infected dogs left without treatment, that can cause lethargic.
Effective and safe treatments are available to kill larvae. The best thing is many preventives, treatments are available to stop spreading of parasite infection in your French bulldog. Thus, it is essential to do a checkup of your dog with Vet. French bulldog, Frenchies have very sensitive digestive tract and skin, so all products, medicines dosages that are available for stopping parasite infection is not correct. Thus, before giving any preventives against parasite infection, consult your Vet in order to keep him healthy and fit.
FAQ
Are French bulldogs Ticklish?
No. Like other dogs and in general pets, they can get ticks.
Conclusion
Fleas and ticks can be troublesome for your Frenchie as well as your home. And since they multiply fast, it becomes tough to control their infestation. Not to forget, the number of diseases they can transmit to your dog as well as to the members of your family.
But these days, we have a lot of options available that helps in removing these pests. These products mentioned above are perfect for keeping your French Bulldog Flea and ticking free while maintaining his overall health. Along with the products, make sure that you take care of his hygiene and cleanliness. In case of any reaction to the products, consult your vet immediately, and discontinue the use.
Was This Helpful?
Be honest and help us become better to our readers! 🙂