Are you finding it hard to make time for your pup or wanting to make playtime with your canine buddy more exciting? If so, this list of the top French bulldog toys is perfect for you.
The French Bulldog is an energetic breed that loves to get active, and people often struggle with two significant hitches while raising this particular pup. They either don't have the time to play with them or can't find ways to make playtime more fun. It can lead to boredom and make your pup resort to unhealthy behavior like depression, laziness, and destructive chewing and biting.
Whichever your case, this fantastic selection of canine toys will make sure you don't have to worry about either scenario. Whether you have to leave your pup for a while to get to work or you want to teach your dog some new tricks, you'll surely find a toy to suit your needs. Here are some tips to help you find a suitable toy for your pup.
Tips for Finding Suitable French Bulldog Toys
Consult a vet and determine the age, size, and overall health of your pup.
Avoid toys that may not be compatible with their physical attributes, personality, and health—for example, large chew toys for small pups like the French Bulldog in this case.
Find out what kind of sensory stimulation your pup primarily reacts to. Like visual, auditory, etc. Find a toy that excites it the most for maximum activity.
Ascertain any destructive behaviors your pup may have and find the toy that can help counteract such behavior.
Make sure the toys are made with fully pet-safe materials.
Get a variety of toys that can help with different facets of your dog's well-being. For instance, chew toys for the teeth and gums, a comforting plush for company and security, puzzle toys for IQ stimulation, and so on.
Keeping these tips in mind will help you narrow down on the ideal French Bulldog toys. Each pet has a set of different and complex needs, and we must keep them in mind while taking care of them to make sure they live a happy and healthy life.
Now, here's our list of the top French Bulldog toys your pup will definitely love to play with. Our picks range from soft ropes to squeaky plushes and chew toys. Surprise your precious pooch with a toy today, and look forward to a happy and healthy pup!
All the products mentioned in this list are available in small sizes and perfect for use as French bulldog toys.
1. Nina Ottosson – Interactive Treat Puzzle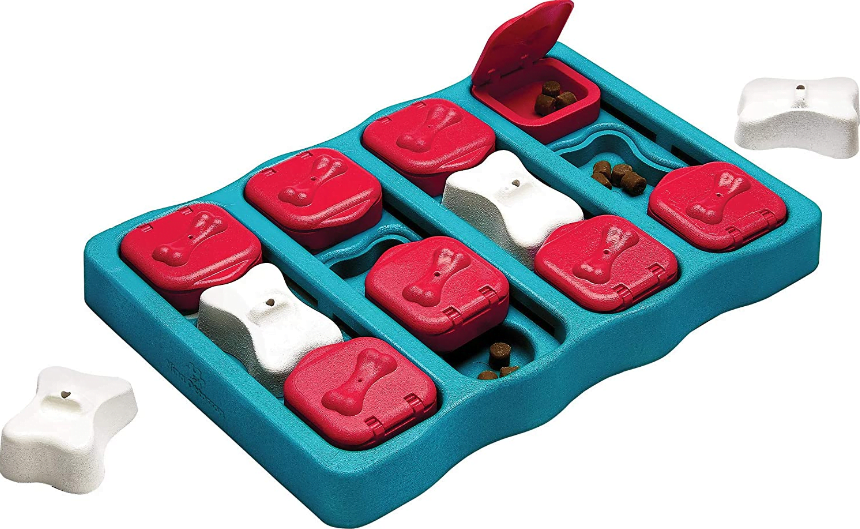 Now, if you notice your pup isn't as excited with regular toys or are looking to boost their IQ, this is precisely the toy you need. This Nina Ottosson puzzle toy will bust the boredom out of your canine buddy like magic. This is best suiting toy for French bulldog learning.
The toy is available at different levels of difficulty. It is certain to keep your Frenchies's attention focused while playing with it. The puzzle toy is said to help redirect your dog's destructive behavior to more fun and productive activity.
It's designed as a "flip, lift, and slide" puzzle, where you hide the removable brick bone treats under the slides. Your pup must figure out which slides have the treats hidden under them and find them- utterly stimulating!
Made entirely of safe BPA plastic, you do not have to worry about any part of the toy being bite or chew-safe. It's also super easy to clean. Just get it soaped and rinsed under running water. Wipe off or let it air dry.
If you are looking for more fantastic learning toys for your French bulldog, click on Amazon link below and check related seller products. Nina Ottosson got great learning and fun toys for every dog.
Key Features:
IQ stimulating puzzle toy
Highly engaging
Encourages positive behavior
Chew and bite safe plastic
Multiple difficulty levels
2. Sedioso Interactive Squeaky Stuffed Plush Chew Toys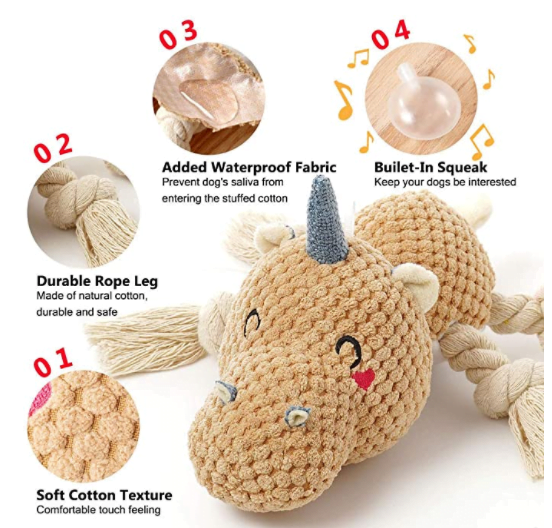 Now this Sedioso hippo Plush toy is not only adorable but also a sturdy piece that can reasonably withstand your pup's bite frenzy. Its varied texture and shape make it an exciting toy for your dog. It also has a squeaky bladder on the inside, which sounds when bitten. You can let your pup have its fun with the toy or play 'fetch' with it.
What's also great about this toy is its interior waterproof layer which prevents your pup's saliva from entering into the cotton stuffing. And the outer soft plush help keeps the teeth clean as your pup bites into it.
The size of this toy is actually what makes it such a great comfort toy. And despite its dimensions, the toy is incredibly light and super-easy to maintain. Just pop it into the wash if it gets dirty, and you're good to go.
Key Features:
Multiple textures
Various sizes
Wide chew area
Interactive squeakers
Comfort toy
Lightweight
Easy to wash
3. Otterly Pets Pet Rope French Bulldog Toys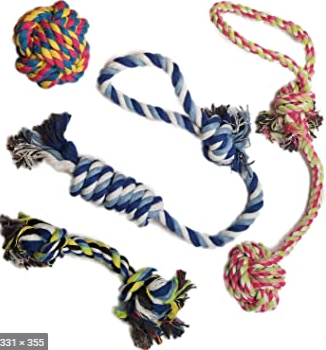 The Otterly pet rope toy for dogs is a simple and effective way to get your pooch excited. You can actively engage in play with your pup with this toy by tugging at it and tossing it around.
The rope toy comes in vibrant colors and is made of 100% natural cotton. It is highly durable and helps keep your pup's teeth clean and free from any plaque build-up. You can easily toss it in the wash if it gets dirty without worrying about any damages.
What's also great about this toy is that it makes no noise. So, if you have neighbors that prefer some quiet, this toy is just perfect.
This product comes in a pack of four with size variations of small to medium. It means it's perfect for French Bulldogs of any size and age- definitely a great pick. It even comes with a reusable bag!
Key features:
Great for interactive tug and toss play
Four pieces a set
It helps keep teeth clean
Noiseless
Easily washable
Come in a reusable bag
4. ZippyPaws Skinny Peltz Squeaky Toy for Frenchies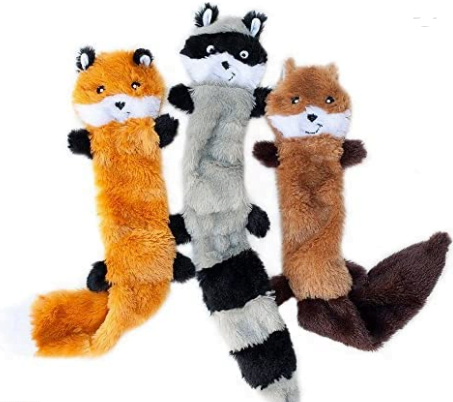 Have you seen how excited a canine gets when it sees a ferret running up the tree outside? We're sure you have. And these ZippyPaws plush toys are the perfect little ferrets for your pup. You can get them in sizes of 11 inches or 18 inches.
The toys come in the designs of a fox, a raccoon, and a squirrel. Not all of them are ferrets, but they're sized as such and are suited for medium-sized dogs of all ages. And yes, that includes French Bulldogs.
They're made of sturdy and durable cotton with no stuffing on the inside. It means your pup can go hours on end chewing and biting these tough little things without damaging them or making a mess. If your dog is notorious for chewing and ripping apart stuffing all over the house, we recommend you get these.
Also, these toys have in-built squeakers. So, though your pup knows they're not actual ferrets, he will definitely have fun playing around with it. The squeakers come into action every time your dog bites into these toys, making it an interactive and fun toy to play with.
Key Features:
Interactive squeakers
High durability
Visually stimulating
Low maintenance
Size options
Easy to wash
5. Chiwava Squeaky Latex Toy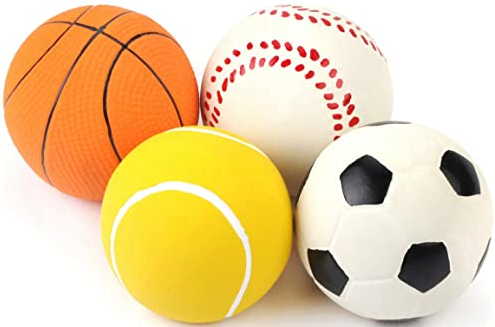 Squeaky balls are a classic. This set of Chiwava squeaky latex balls are made of fully chew-safe rubber and is especially suitable for small canines. And that means they're perfect for French Bulldogs. You can have your dog play with it outdoors as well as indoors.
Play fetch outdoors in wide-open spaces for maximum physical activity. The balls have a great bounce to them that your pup will just love. You could also let your pup play with it indoors. It is super light and soft, and you do not have to worry about it damaging anything indoors.
What we also love about this toy is its super-easy maintenance. It doesn't allow much dirt to settle on its smooth surface. However, if you want to clean it, you can just wipe its surface with a damp cloth and some soap water.
Key Features:
Outdoor and indoor safe
Ideal for playing fetch
Great bounce
Multiple designs and patterns
Available in multiple sizes and sets
Easy to maintain
6. Hartz DuraPlay Bacon Scented Chew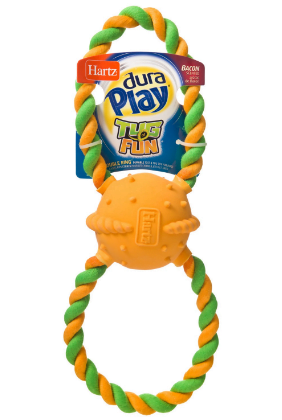 It's hard to find dogs that don't go crazy for bacon. So, if your French bulldog feels a little lazy or down in the dumps, this bacon-scented toy is sure to get its spirits up.
The Hartz DuraPlay bacon-scented toy combines a dog's two favorite things- toys and food, and makes it irresistible to not play with. The two loops attached to the latex center are made of heavy-duty cotton. It is designed so that you get to tug and play with your Frenchie from the other end actively.
As for the chewy latex ball in the center. It's just the right kind of mushy you bet your dog would love to bite into. It's filled with foam on the inside and a durable outer latex covering. Get this for your pup, and you're going to see the excitement unfold in front of your eyes.
It's vital to keep your pup physically active for a healthy and long life. And if you're finding it challenging for her to budge, this toy is going to be a game-changer.
Key Features:
Bacon scented
Multiple loops great for interactive play
Durable cotton that helps keep teeth clean
Chew-safe latex center
Easy to maintain
7. Benebone Bacon Wishbone – Chewing French Bulldog Toys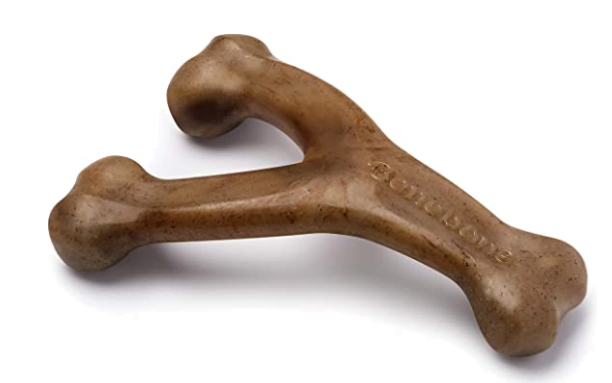 This toy is probably the ultimate chew toy on our list. It's a nylon wishbone toy flavored with real bacon! Now, you can't beat that. It's definitely one of the best French Bulldog toys.
We recommend this fantastic chew toy for French Bulldogs that are especially aggressive chewers. Its wishbone design makes for an excellent grip, and the nylon build makes it highly durable for prolonged use.
Benebone also produces peanut and chicken flavors, but this one is a favorite. They come in five different sizes- a small, medium, large, giant, and tiny 2-pack set. We recommend any size below medium for your French Bulldog. You can get the right size for your dog, depending on its size and bite/chew capacity.
The wishbone will last for weeks, so make sure you know what size your pup can handle, depending on its bite capacity and age before you get one. You can have it replaced if it has lasted for more than its given shelf-life.
Key Features:
100% authentic bacon flavor
Highly stimulating
Super sturdy nylon ideal for aggressive biters
Easy-grip design
Long-lasting
Multiple sizes available
Made in USA
8. Haute Diggity Muttini Collection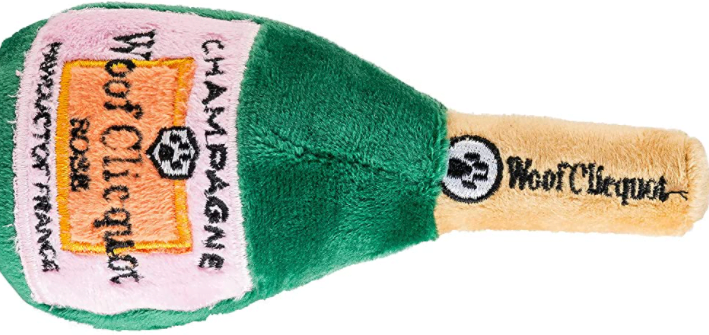 Now, this toy is not only fun for a Frenchie but also its owner. The Haute Diggity Dog Muttini collection features hilarious 'parody' plushes of various beverages. You'll find everything from champagne to martini, wine, whiskey, and beer.
If you're looking for unique and whacky French Bulldog toys to gift a friend, look no further, this is what you need. Also, just picture yourself getting one of these for a fun photoshoot- priceless!
These French Bulldog toys come in three sizes: small, medium, and large. They're great plushes to keep your pup from chewing away valuables at home. The fun designs are sure to put a smile on your face while also entertaining your dog. It's a win-win.
To keep them clean, toss in the wash and air dry. These plushes are made of high-quality fabric that doesn't damage easily, so you can wash them when needed.
Key Features:
Novel trendy design
Multiple sizes to choose from
Multiple exciting designs
Great as a gift
Sturdy and easy to wash
9. MewaJump Rubber Cactus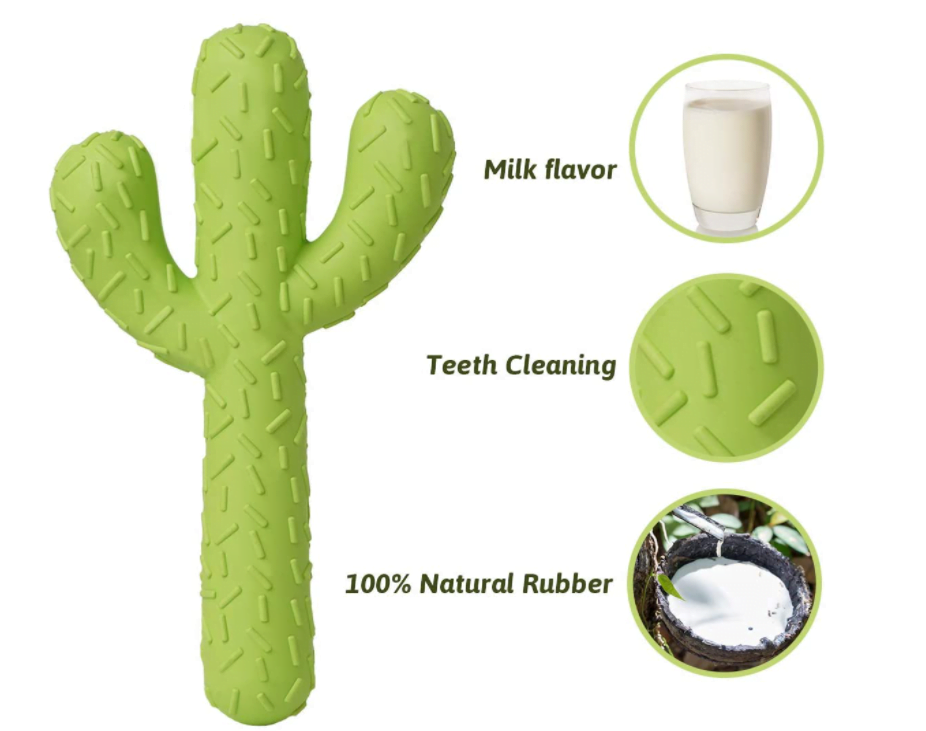 The MewaJump cactus chew toy is another super-cute and tough piece that will satisfy your pup's chew-craze to the maximum. We highly recommend it for medium-level and aggressive chewers.
The MewaJump chew toy is suitable for all dog sizes and breeds. It has a delicious milk flavor that your pup cannot resist and is made of absolutely safe natural rubber. The chew toy will not only keep your pup occupied but also keep Frenchies teeth clean and help it develop strong and healthy teeth. Biting is an essential part of developing robust dental health, and this is the ideal bite-safe toy to help your pup get there.
While this chew toy can take the pressure of bites, it is also soft and very comfortable to chew. Its soft surface will help rub off any germs that may cause plaque-build up and gum bleeding.
Key Features:
High bite-resistance
It helps keep the teeth clean
It helps keep the gums stimulated and teeth strong
Milk flavored
Easy to maintain
10. PetSafe Busy Buddy Bristle Bone
Last but not least, the most effective dental chew-toy. This Petsafe bristle bone chew toy is the best toy for helping your Frenchie maintain excellent dental health while also having fun and getting nourished. It really kills three birds with one stone and does so efficiently.
The chew toy is one of the most long-lasting products on this list and is made of sturdy, durable rubber and nylon. It's shaped like a bone with rubber nubs and bristles in the center and helps keep your pup's teeth and gums clean while also making them stronger.
The PetSafe bristle bone toy also comes with a refillable treat ring. The bone toy comes with a section where you can pop in the treat and let your pup enjoy nibbling on it. You can order refills when they run out to keep your pup satisfied and nourished.
We highly recommended it for smaller dogs, as advised by the producers. It'll be just perfect for a medium or small French Bulldog.
Key Features:
Bristles for teeth hygiene
Rubber nubs for gum stimulation
Highly durable chew-safe nylon and rubber parts
Attachable and refillable treat rings
Ideal for smaller dogs
Some Care Tips For French Bulldog Toys
Keep the toys clean by either washing them or wiping them down with soap and water.
Store clean toys separately with toys that are yet to be washed/cleaned.
If your toy is not chewable, keep an eye on your dog to prevent it from chewing and accidentally consuming it.
Replace worn-out toys that are no longer stimulating or usable.
Avoid bringing out all toys at once for easier maintenance.
We hope the information made available here on French Bulldog toys helps you find the ideal toy or toys for your pooch. All the toys featured on this list are below $15 and are a fantastic bargain for your Frenchies delight.
There's nothing more rewarding than a happy canine buddy that's active and healthy, and with some effort, we can provide them the quality life they deserve. Get one of these French Bulldog toys and surprise your Frenchie pup soon!
Was This Helpful?
Be honest and help us become better to our readers! 🙂