As a proud parent of a French Bulldog or you are looking for a gift for a Frenchie lover, you have come to the right place. French bulldog slippers are the best ways to be in step with Frenchie, literally. And even if you don't have a French Bulldog, this footwear make great conversation starters!
Here are five slippers and shoes that every French Bulldog lover must have right now.
1. Snoozies Slippers for Women
This slipper-socks hybrid from Snoozies is the perfect indoor footwear to pair with your Frenchie. The exterior is a bright, fun color with a French Bulldog's adorable face emblazoned on the front. Let's see what else these slippers have to offer.
The primary material of construction is a fleece. However, the exterior of the house slippers is brushed fleece, while the interior is Sherpa fleece. This makes the slippers very warm and soft. Besides, fleece is excellent at keeping your feet cool in summer and warm during the winter, which is fantastic.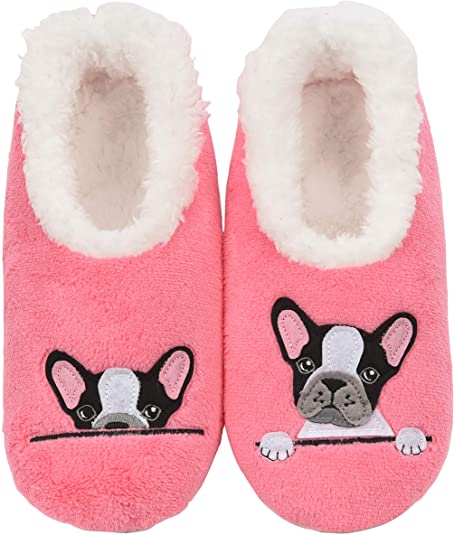 In addition, the sole is a non-skid material, so the slipper ranks pretty high on the comfort scale. So they work great on different types of floors. However, if you like your slippers to provide cushioning, this might not be for you.
These Snoozies Slippers come in different sizes ranging from small to extra large. However, you need to size up for the perfect fit as they are on the smaller side. When it comes to maintenance, these fluffy slippers are machine washable, so it is straightforward. And these slippers don't shrink in the washer, which is a bonus!
2. Womens EVA Foam Frenchie Flip Flops – Slippers
These versatile slides with French Bulldog print are a great choice for anyone in the family. The bright colors and the Frenchie print on the slides will delight kids as well as adults. It is also lightweight, breathable, and quick-drying, making it suitable for indoor and outdoor use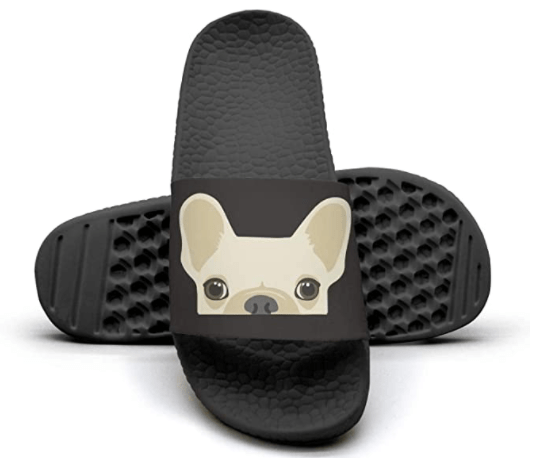 This pair of slides is largely synthetic, but it is soft and comfortable. The anti-skid sole with octopus sucker design is another feature that adds to its comfort. Furthermore, this grip design also makes the slides ideal for wet floors or outside on the beach. 
Talking about the design, the arch support on this pair of slides also makes it very comfortable. In addition, the grooves on the insoles ensure that the slides stay firmly on your feet and avoid any embarrassing situations. 
The slides may have a typical rubber smell on arrival, but thankfully it dissipates quickly. You might also need to size up on this one, especially if you have wider feet. But overall, these French Bulldog slides are quite sturdy and well-designed. It comes at an unbeatable price, too, in case you're wondering.
3. Comfies – Frenchie Super Soft Women's Slippers
This one is another great pair of house slippers for Frenchie parents. Unlike the first two slippers on our list, this one has a cute French Bulldog all over the body. Although this Frenchie slipper is marketed as women's, any French Bulldog lover can wear it.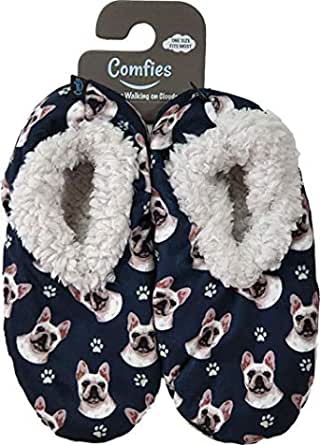 On the exterior, the material is a durable fabric, which makes the slipper sturdy and durable. In addition, the knit uppers keep your feet warm yet breathable. The interiors of the slippers consist of soft plushy material for optimum comfort and warmth. On the topic of comfort, this Comfies slipper has non-skid dots on the sole. This means you can wear the slippers comfortably all around the house, including damp surfaces.   
When it comes to sizing, this Frenchie slipper is available in sizes 5 to 11. So you will have no problem finding a pair for yourself and others in the family. If you're wondering about this fluffy slippers' maintenance, throw it in the washing machine when required. And your French Bulldog slipper will be as good as new.
4. L-Rain LR Women's Short Rain Boots
This pair of rain boots is the perfect one to take your Frenchie out for a walk. It comes in a classic Chelsea boot design. In addition, it comes in different colorways that make it even more fun. The black and white design with the French Bulldog all over the boot is particularly attractive.
The sole and the upper of the rain boots are made of high-quality rubber, making them lightweight and durable. On the other hand, the boot's interior is soft and breathable, so there is no chance of smelly feet. Another fantastic feature of these rain boots is that the materials are all eco-friendly. This is something most rubber boots cannot boast about, so it is worth mentioning. You will also love the polka dot design on the interiors of the boots.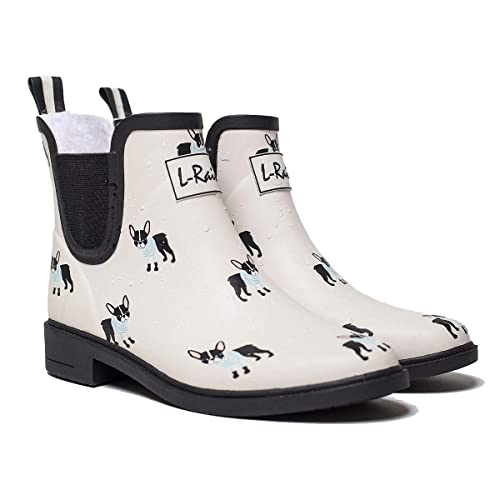 Check out the Price on Amazon Here
The elastic tabs on the sides of the rain boots make them easy to wear and take off. Moreover, the stripped sole renders the boot safe with an anti-slip feature. Of course, the waterproof feature also makes the boot very practical. Now you can take your Frenchie out for a walk irrespective of the weather and yet keep your feet dry. 
These trendy French Bulldog rain boots come in sizes 5 to 11 making them suitable for everyone. However, the trendy toe design of the boots may not work for those with wide feet. The rubber in the shoe does stretch out very slightly, but don't expect a remarkable difference.
5. InterestPrint Women's Running Shoes
This running shoe is an excellent combination of style and functionality. It features the cutest French Bulldog on its body, making it a must for every Frenchie lover. In addition, the powder blue color with black accents gives the shoes a very interesting look.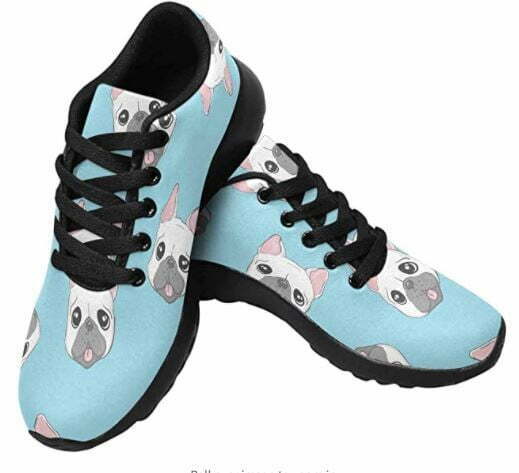 The upper material of this Frenchie running shoe is polyester. With a 3D design, the shoes are lightweight, durable, and anti-moisture. The flywire feature on the upper also adds sturdiness and durability. Furthermore, the soft foam interiors keep your feet comfortable. The EVA soles bring the advantage of anti-vibration and make it effortless to clean as well. Wiping the sole with a soft, damp cloth is usually enough to take care of the mess.
You will find that these French Bulldog shoes fit true to size. Along the same lines, this pair of running shoes comes in sizes 6 to 15, so you will find a pair without any issues. You do need to make sure that you get the sizing right using the size chart before making the purchase. This versatile pair of trendy shoes will take you from running, walking, or even to the gym with absolute ease.
Conclusion
Our list of French bulldog footwear is very inclusive. You will find everything from house slippers to summer slides to rain boots. These are the perfect ways to complement your adorable pet and express your appreciation for them. They hit a perfect balance of comfort, style, and of course, a reasonable price tag.
If you don't have a Frenchie yet, don't fret. These footwear recommendations make excellent gift choices for French Bulldog parents. So take your favorite pick from this list of slippers and shoes that every French Bulldog lover must-have.
Thank you for reading OurFrenchie.com posts.
Was This Helpful?
Be honest and help us become better to our readers! 🙂