It's easy to understand why someone thinks the Frenchies can swim. Rather, they get affected by heat easily, especially in summer, and the water is a great place to cool off. So it may be tempting for your French bulldog to cool off in the pool, but it is important to know that they cannot swim. Because of their compact size, short legs and lack of muzzle, these dogs were not just made for water.
Read more about Frenchies and Hot weather here.
The French Bulldogs cannot swim. On a serious note, they will sink like stones in a pond. Your French can drown in a few seconds as they fall over their heads into the water. French bulldogs cannot swim alone – You have to watch for them.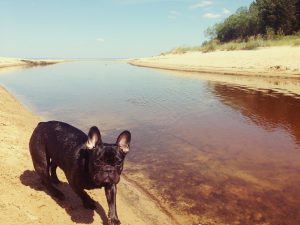 You should see your French Bulldog as a newborn baby when it comes close to water at a depth of less than a few centimeters. That said, French Bulldogs can be taught to swim with a life jacket or a tight-fitting life jacket. Please note that this requires 100% constant monitoring. Under no circumstances should you leave your French bulldog near the water or on a hot day alone. You can kill your dog if you leave them near the water on their heads.
Can French Bulldog Swim in a Life Vest or Life jacket?
Yes! French Bulldogs swim with the help of a life jacket or a well-fitting life vest and proper constant training. It is important that you look at your French bulldog whenever you are near water. Never leave your French bulldog near water. If you want to play French in the hot summer months and play in the pool with your family, you're in luck!
Teach French Bulldog How To Swim
There are life jackets specially made for your puppy, giving them enough lift to keep their heads out of the water. PetMD recommends that you actively teach your French to swim with the "friends system". The system of friends is simply swimming with your dog with a ritual approach that praises your pet before, during and after a swim session, along with a treatment to properly leave the water. PetMD goes further and suggests that you can actively train your pet to leave a pool or other small body of water, just for the safety purpose, in case – of course, with a lot of treats along the way.
Woofipedia also suggests that in addition to wearing a life jacket, you must teach your dog to get in and out of the pool and help them along the way. They also suggest swimming in the water without currents. This is especially important for French bulldogs as they have no snout to keep their airway out over the tiniest waves. His head is almost underwater, even if he wears a life jacket. Their faces are too crushed! Therefore, always look at your French near the water or while swimming (with a life jacket) to make sure your heads are not underneath.
Can French Bulldogs Swim in a Baby Pool?
Yes! In fact, we preach to anyone who has a French bulldog. "You have to take one of those little ponds." French bulldogs can die from overheating. The French love the pools for children! These small children's pools are perfect for French bulldogs.
Read more about French bulldogs health here.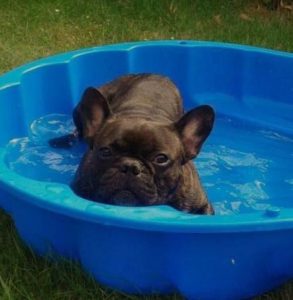 One of the drawbacks of such type of plastic pools is that they are impossible to transport. The families that are traveling a lot and love to bring their French with them everywhere they go will be facing difficulty. French Bulldogs can die within a few hours if they are on a hot day. You must provide a way to cool down your French bulldog while playing outside.
These small pools are fantastic, but limited for home use. There is a fantastic dogfish pond available out there that works just as well as these small pools and is also suitable for Frenchie-sized dogs, so they can swim much safer in streams, lakes, lagoons or oceans.
The best part is that it is foldable so that it can be folded and inserted into your car when you and the dog go somewhere to play all day. So, you have it! French bulldogs cannot swim alone. You should have a life jacket or life vest, and you should watch or swim with them until they are near the water.
Was This Helpful?
Be honest and help us become better to our readers! 🙂