French bulldog, or Frenchies, as they are called, are energetic, playful little dogs. They are mostly a pet that every dog-loving person would like to own. But sometimes Frenchies may have behavioral problems manifested through aggression due to insecurities about their owners, dogs, or other peoples (or animals) intentions towards them. These problems can make Frenchies look less like a playful friend to have, and more like a problem to solve, which is why solving French bulldog behavior problems is very important.
There are more common types of behavioral problems that may occur with French bulldog, and we're going to look at all of them, and how to solve them.
1. Resource Guarding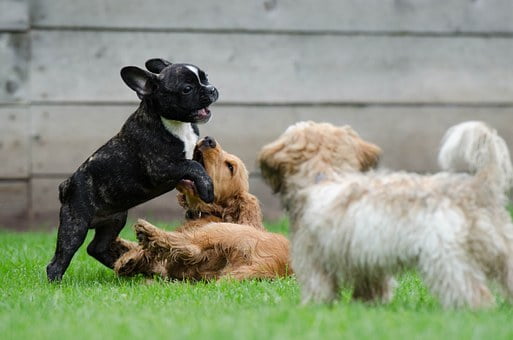 It's usual for dogs to have their favorite toy they can chew on, but when it comes to Frenchies, they can get a little bit needy and protective about their toys and treats, so when you try to take these things away from them, it's not rare to see them take a defensive stance towards the things in their possession. There are a few tips that you can use to work on this behavior that is proven to help, but there is one thing that is definitely going to make things WORSE, and that is trying to take away the dog toy or his treat, as a form of punishment on a regular basis. Here's what you can/should do:
If your dog is playing with his toy or chewing on its favorite treat, you should let him do that, and not bother him.
Instead of just taking toys away from your Frenchie, you should also hand feed him (at least once a day), so that he can associate your presence with food, instead of bad.
Best way to train your dog to let go of his toy is to bring something that is the same as, if not even more rewarding for the dog than the toy itself. You should throw some tasty treats for him to follow and eat. Therefore, you're training your dog into linking your presence with something good, and you're making him forget about the toy he's so connected with.
These are just some of the most usual tips, that work in the training of your Frenchie's overprotecting resource guarding. Of course, every dog is different, so you will need to improvise to find out what works the best for your pup.
2. French Bulldog Aggression to Other Dogs
Aggression to other dogs is the second biggest type of behavioral issue that occurs with French bulldog. This problem is very common among Frenchies. And it's a very common way for many dogs to try and assert their dominance over other, bigger or smaller dogs.
Reasons of Frenchie aggression:
Frenchie might feel anxious. Reasons for feeling anxious could be many. Underrated, stressful environment, food quality etc.
Scared of other dogs. Yes, you heard right. Its natural reaction of fear – attacking. It might sound strange but its metal reaction. Sometimes the best way to win fear is by facing them.
Overprotective of his owner – you. Therefore, Frenchie will go to distance to try and defend you from other dogs, even if you are not threatened by them.
Dog on dog aggression is often successfully trained and treated by a professional trainer, similar to the resource guarding issue. There are cases when our little Frenchie has problems with other dogs. She gets aggressive, and she doesn't like if others coming to close to her or us – owners. Even with other Frenchies she gets aggressive. There are only few dogs in our neighborhood which she is friends with.
How to stop French bulldog aggression to other dogs:
By training technique. Keep control of your Frenchie. Feel his energy. Move away and give some time. Let your dog chill and cool down a bit.

Focus your dog attention to any other thing except other dog

. For example toy or snack. At the beginning hi will pay less attention to you, but don't stop and try to get his attention. Best would be a game with toy or wood stick. Frenchie have to start to trust you and focus on you. Allow you Frenchie have a stick in mouth and walk around. He has what he wants and is less nervous.
Some minutes later you will notice that Frenchie is less aggressive and stressed. He will start to be relaxed and focus on owners reactions, next moves.
Here is visual material of how to train your Frenchie not being aggressive to other dogs:
When your Frenchie is ready – the important thing that you can do is to slowly socialize Frenchie. This means that your Frenchie should engage in social interactions with other dogs and people as much as possible, which will, in the long run, make him more connected to others, instead of his toys, and will definitely help his aggression towards other dogs. But remember not to rush you have to see and feel that Frenchie is ready for some socialization.

Look for the things that trigger your dog aggression, and eliminate them

. If your Frenchie feels scared or nervous around bigger dogs, then take him for walks to places where there are no bigger and scarier dogs. If your dog doesn't like sharing his food, feed him separately from other dogs. Whatever the thing is that makes your dog aggressive towards other dogs look for a way to eliminate it from your dog's life until your dog is successfully trained to deal with these kinds of stuff.

Learn to reward your French bulldog whenever he successfully engages

in an interaction with other canines. Whether it's a situation where you Frenchie sees a big dog and doesn't get scared or aggressive, or overprotective of you when there is no need, don't forget to reward him with a tasty treat. This way, he will associate both your presence and acting calm around other dogs as a good, rewarding habit, so it's really a win-win situation for everybody.
Alternative Aggressive French Bulldog Solution
For a good start you can get a Frenchie muzzle to protect others and your own dog. Check out perfect dog muzzle for French bulldogs at our store here.
3. When Frenchie Called – Not Listening
French bulldogs are a majestic breed. Sometimes when you think they don't hear you actually they hear you, but they just don't want to. It's important to train your pup from early days to commands.
How to Deal if French Bulldog not Listening:
Take part in dog training courses
Practice basic commands. By using body commands. For example: Put your hand up when you have a treat in your hand, and you request a Frenchie to sit
Repeat your commands in specific moments
Be patience and calm to your Frenchie
Use Ultrasound whistle to have attention from Frenchie
4. Separation Anxiety
Separation anxiety is one of the most popular behavior problems among French bulldogs. Frenchies very attach to their humans, so its hard for them to be a lone for some time.
Common symptoms for Frenchies separation anxiety:
Eating their poop
Escaping
Chewing staff
Urinating
How to solve separation anxiety:
Frenchies owner has to be more present to his pap
Teach dog bad things become good. This step could be better done with a professional dog trainer.
Read our detailed article about Frenchies separation anxiety here.
5. Frenchie – Follower Behavior
Before we're diving into deeper research:
Remember: French bulldogs are one of those social breeds that loves to hang around together. Not only with humans but also with other dogs. They are very social creatures.
First reason is imprinting. Dog sees you as a trusted object. Like parent for him. He feels safe by your side and follows everywhere you go. This usually happens when the puppy is 3 – 12 weeks old.
Second reason might be reinforcement. Frenchie associate you with good things like safety, food, fun activities etc.
Breed traits as third reason. Frenchies are good example as breed. For generations French bulldogs where breed by humans, and always stuck together. These breeds are also called "Velcro dog".
Fourth reason – companionship. Some dogs just like to spend more time with humans rather than other dogs or alone.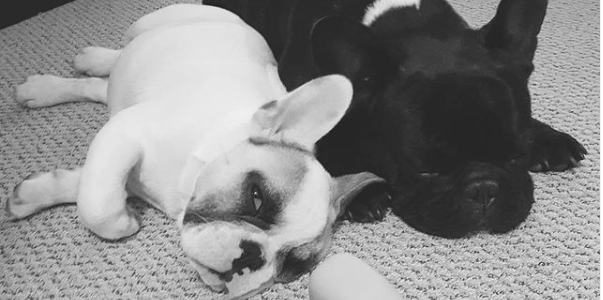 Small, but there is a chance that the French bulldog has emotional or physical distress. Symptom: If your Frenchie follows everywhere you go then its something familiar to separation anxiety. It might be hard to recognize normal following behavior and problematic behavior.
How to Solve French bulldog following:
Usually Frenchie left alone when we go to work, school, market etc. And there are environments where we don't want to take the dog with us. So at that point Frenchie has to stay alone home. If it is a case when you want you Frenchie to be more self-sufficient or left alone, here are some steps:
Point of reference. Be calm, dog feels your energy. Teach your dog that following or leaving you is not a bad thing. Ask him to stay, go way and return. After returning – give a snack as a reward for waiting. From time to time change places of practice in your house.

Frenchie will reference that place with stay = good (I will get a treat)

. Stay calm while training. Reference will be not just about snack but also about calm mood during waiting period. How long it takes to practice this? Well Frenchies are stubborn it may take 20 or 30 times, but it is doable.
Remember: Don't call him while you are teaching separation. Reward is waiting and calmness.
Leave Frenchie calm and slow while training. Build trust with each other (team-up). Frenchie will start to understand that you are giving him a task. The task will make you (owner) happy and the dog will be happy by seeing you again add getting treat.
Routine. Train your Frenchie separation daily. Make him feel it natural – usual. Like daily activity. A task which will be rewarded.
6. Begging
If your pup is begging then probably problem is owner. For example if your Frenchie begs while you eat and you give something to him – hi understands that begging is the way to get something from human.
How to treat French bulldog from begging:
Ignore – don't pay attention! But be patient, it may take some time while Frenchie will understand.
7. Barking
Barking is something similar to begging because dog tries to express his feelings. But this time it could mean lot more health problems. French bulldog breed is not popular barkers. That's why try to pay attention.
Symptoms of barking:
Distress and Anxiety. Yes you heard it right – Frenchie express his distress by barking
Attention seeking
Barking at alarm
Genetics
Territorial
How to solve Barking:
Teaching French bulldog to stop barking
Getting proper exercise. You Frenchie might signal that he has a lot of energy, excitement or frustration. Long walks will help to reduce energy and will make calm down.
Take attention off. You have to take Frenchies attention from where ever it he is barking on – to owner – you. To make this happen you have to have powerful tools. Best would be

snacks (treats) or toys

. Get attention of when Frenchie barks and give snack as reword. Our Frenchie loves laser. When ever she sees the laser pointer her attention is 100% on and nothing else matters.
Be patient. It takes some time to build a relationship with your dog and teaching him that barking is not good. But don't worry it will get better and better each training time.
Anti-Barking device
Another solution is to get an anti-barking device. Probably not the most advised solution, but still effective. We truly advice you to try simple training tips before using anti-barking devices. Its simple technique but less friendly to the dog. Check out – Easy to use Anti-barking device for affordable price in our store here.
8. Chewing
When your Frenchie is young its only natural to chew bones or humans clothing. That's because their teeth are growing and itching. They are seeking for something to chew. After they grow up it's their natural habit to chew. Dogs relief stress by chewing. But sometimes they try to pay owners' attention.
Reasons why Frenchies Chew:
Stress
Hunger
Lack of exercises
Separation anxiety
Solution for Chewing:
No one likes chewed shoes or ruined coach. That is why we have to train a bit of our Frenchies to stop chewing everything in the house. Follow these steps to stop Frenchie chewing unwanted things:
Supervise your dog. If you have a time to follow him to see what is he looking to chew.
If you Frenchie chewing something he shouldn't, the Next step is get attention away.

Call him, give a treat (if you don't have any don't worry) and then alternative chewing object – toy

. So that he starts to understand which is allowed and preferred to chew.
There are so many chewing toys on market. But we advise to be very carefully because some toys are bad quality or can harm your dogs health. For example broke teeth or plastic parts can be swallowed.
It's better to choose tested and good quality chewing toys rather than end up in a veterinary visit. Our listed chewing toy will fit good for your French bulldog. Its durable, fits for aggressive chewers and has flavor to have Frenchies attention. Here are some reviews from other Frenchie owners: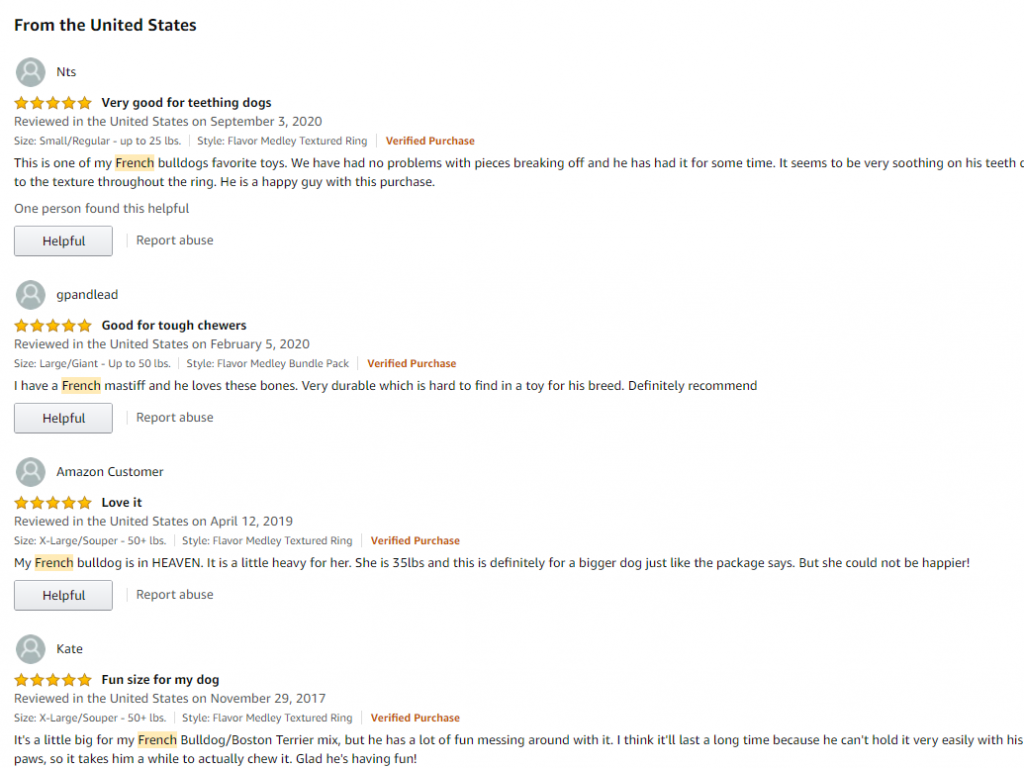 If you still don't feel comfortable buying chewing toys on the internet, visit your local veterinary – they will advise which toy would fit best.
9. Rough Playing
Historically French bulldogs come from fight dogs, that's why when you see two Frenchies playing you may think they are fighting. But they are not. Frenchies have to socialize with other dogs to have some play time. It's important for them to understand that human is not a French bulldog.
Reasons why French bulldogs play rough:
Dominate over other dog or human
Learned from other dogs being rough
Too much excitement
There is, of course, a difference in all dogs, the same as humans, so you will need to be patient with your Frenchie, as the training process can take up to a few weeks, months, or even years. The most important thing for you is to stay consistent and patient, and not forget how rewarding a dog training process can truly be, once it's successfully done.
Thank you for reading ourfrenchie.com articles!
Be honest and help us become better to our readers! 🙂