Best Shampoo for French bulldog is made with natural ingredients and accepted by veterinary experts.
French bulldogs are adorable and affectionate four-legged companions that need constant care and love. Using the correct shampoo for your French bulldog is your utmost importance to keep him/her healthy and happy.
These small breed dogs have a short-coat and are moderate shedders. They also have extremely sensitive skin, which makes them prone to various kinds of allergies and other infections. While choosing a shampoo, care should be taken in selecting mild shampoos, free from parabens, sulfates and other synthetic ingredients.
There is a myriad of shampoos available in the market today, but you need to find out the best for your French bulldog. Below is a list of shampoos that are known to work best for French bulldogs.
Best French Bulldog Shampoo:
1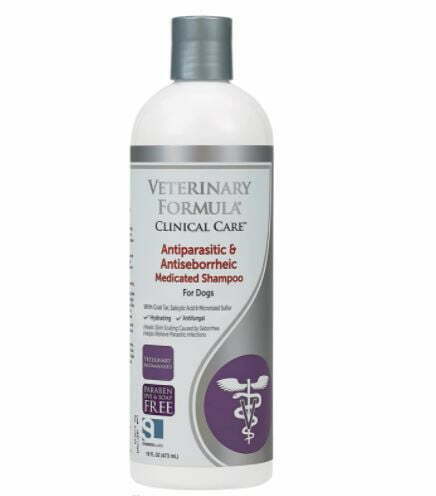 Veterinary Formula Clinical Care
Check Prices
2
Cleansing Dog Shampoo
Check Prices
3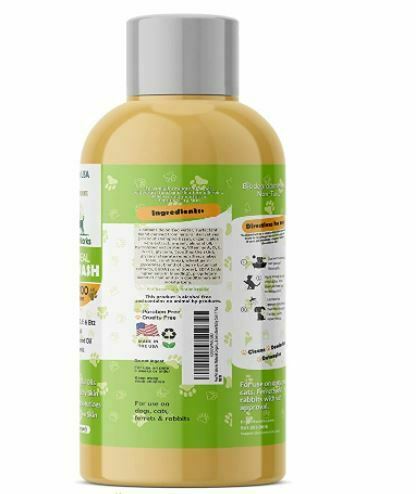 Pro Pet Works Organic 5 in 1 Oatmeal Dog Shampoo
Check Prices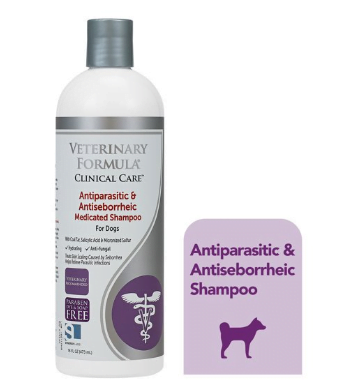 This medicated shampoo is one of the most recommended shampoos by vets for treating various skin infections in dogs. It is also a perfect French bulldog shampoo for allergies. This is an incredible choice for a French bulldog since their skin is sensitive and prone to many diseases. Even if your Frenchie not showing any allergic signs, this is a great shampoo to prevent any trouble.
From treating mange infections to keeping the skin hydrated and healthy, this shampoo does it all. Reviews are very positive and customers returns to buy again.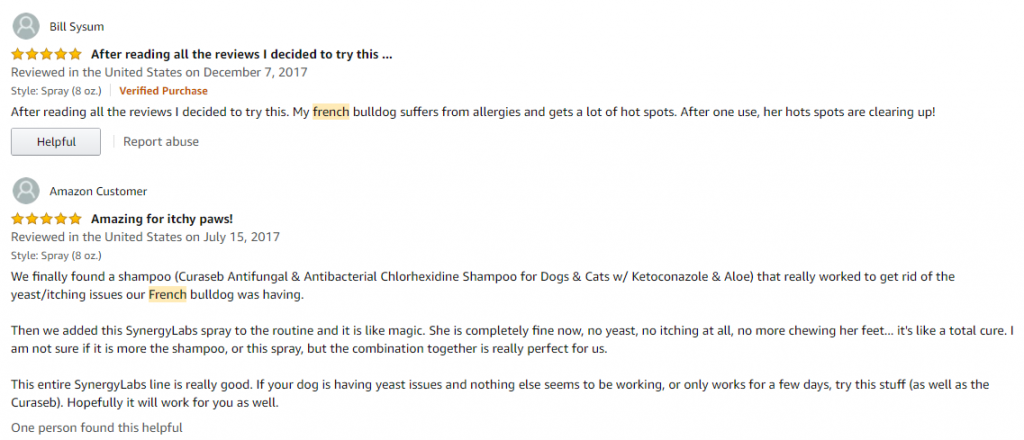 Few Features of this Product are:
Gentle healing: This medicated shampoo contains ingredients such as coal tar, salicylic acid and micronized sulfur that work together to treat scaling of the skin due to seborrhea.
These chemicals work to treat mange infection, along with infections caused by parasites, bacteria and fungus. The presence of allatonin and colloidal oatmeal in the product promotes fast healing and keeps the skin hydrated.
Fast results: Veterinary formula shampoo will give fast relief to your Frenchie from any kind of skin redness, inflammation, bald spots, flaky or itchy skin and others. You only need to give 2-3 times wash in a week initially and gradually decrease the frequency once it starts to heal.
Vet recommended: The best part about this product is that it is paraben, soap and dye-free. It will keep your dog's skin healthy without removing any spot-on treatments for tick or flea. Most vets recommend this product due to its ability to treat parasitic, fungal and bacterial infections effectively.
Unique formulation for dogs: For dogs with sensitive skin, such as the French bulldog, this product is specially formulated with a balanced pH to suit the dog's skin. It is specially formulated for dogs above 12 weeks of age.
Veterinary grade ingredients used: The shampoo is made with premium veterinary grade ingredients but comes at a very affordable price.
Affordable pricing

Veterinary grade ingredients used

Recommended by vets for serious skin infections
May not lather very well like other shampoos
The Antiparasitic and Antiseborrheic Medicated Shampoo by Veterinary Formula Clinical Care is one of the best shampoos to treat your Frenchie's skin infections. You will see results in just a few washes, and it feels mild on the dog's skin.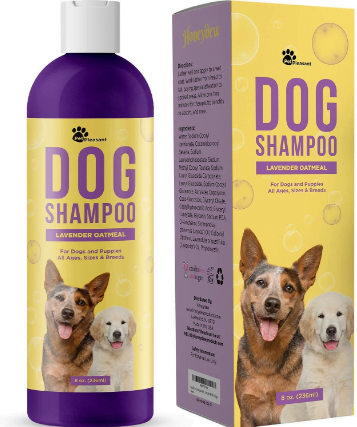 The colloidal oatmeal shampoo with lavender is a mild and aromatic shampoo that will soothe your Frenchie's sensitive skin and fur. It has properties that will protect your dog from allergies and other skin irritations.
Some Best Features of Colloidal Oatmeal Shampoo are:
Gentle cleansing formula: It mainly contains colloidal oatmeal that has natural detoxifying and soothing properties. This form of oats gently removes any kind of dirt or oil and keeps the skin moisturized and smooth.
Shiny and healthy coat: To keep your French bulldogs short-coat shiny and smooth, this shampoo comes with jojoba oil. Jojoba oil works to keep the fur moisturized, hydrated, shiny and healthy-looking.
Hypoallergenic: This French Bulldog shampoo comes with natural hypoallergenic properties that are great for dogs prone to allergic reactions, such as a Frenchie.
Aromatherapy properties: French bulldog's have folded skin that can become prone to infections or itchiness very soon. This shampoo has lavender oil that has both medicinal and cosmetic properties.
It will soothe any kind of dry or flaky and itchy skin, keeping your dog calm. Lavender oil will leave your dog smelling good and happy.
Paraben-free: This shampoo does not contain chemical preservatives such as parabens that can irritate your dog's skin.
Mild and soothing

Paraben-free

100% money-back guarantee

Natural hypoallergenic

Reasonably priced
The scent may not be long-lasting
The colloidal oatmeal shampoo is a great pick for French bulldogs because it contains natural ingredients that soothe and protects sensitive skin.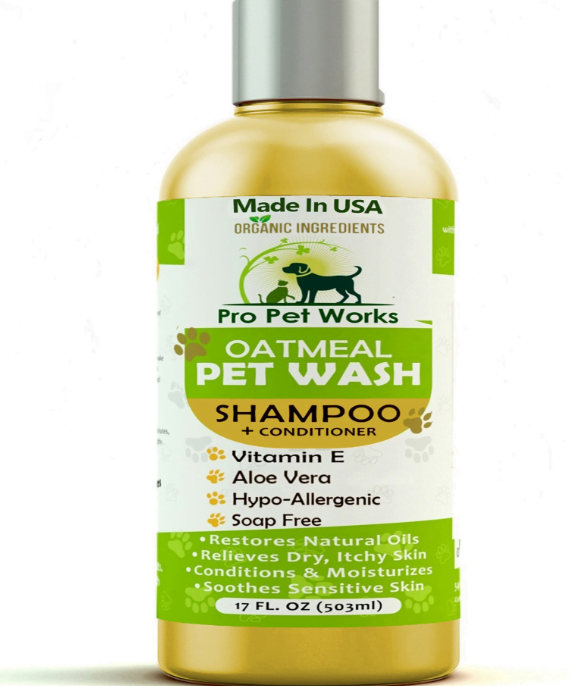 This Natural Oatmeal Shampoo by Pet Works is an all-natural shampoo that is soap-free and not only cleanses your Frenchies skin and coat but also conditions them. This shampoo is one of the best when it comes to keeping your French bulldog's super sensitive skin healthy and safe.
Amazing features of Oatmeal Shampoo are:
Natural and organic ingredients used: This product is made up of organic ingredients such as aloe vera and almond oil. These ingredients work together to protect your Frenchie from dry, itchy and irritated skin. They are extremely mild and best suits skin that is highly sensitive.
Rejuvenates the skin cells: Almond oil present in this shampoo is a good source of natural vitamin E, which helps in keeping the skin healthy. It protects the skin against harmful UV radiations and enhances the rate of cell repair in the skin.
The presence of fatty acids helps in locking down skin's moisture and heal irritated skin.
Unique formula: This shampoo comes with a unique blend of ingredients such as aloe vera extracts, Vitamin A, E and D, almond oil, and others, that make it extremely reliable. It can be used on the most sensitive parts of your Frenchie such as the nose, ears etc.
Vet recommended: This product has been recommended by many vets because of its unique cleansing formula. It especially works well for pets that are allergic to grass, any food or flea bites.
Highly aromatic: This shampoo has a cherry almond smell that will keep your Frenchie smelling good for a long time. It will eliminate the wet-dog odor from your pet. This shampoo also helps in detangling the fur for easier brushing.
Paraben and detergent free: This product is free from any harsh chemicals such as alcohol, soaps, detergents and parabens.
Biodegradable: The ingredients in this product are 100% biodegradable, and the product is made from recycled materials. It is non-toxic without any animal by-products.
All-natural and organic product

Deodorizes the dog for long

Can be used on ultrasensitive skin

Biodegradable and recycled materials used

Recommended by vets

Affordable
This all-natural oatmeal shampoo is a reliable product that can be safely used to cleanse and condition your French bulldog. The best part about using this shampoo is that it cleanses as well as conditions the skin and coat. All-natural and organic products are one of the best choices for a dog's sensitive skin.
The Fresh N Clean French bulldog shampoo is one of the best picks when it comes to deodorizing your French bulldog and keeping its skin and fur healthy. Since Frenchies have folded skin, they end up giving out a bad odor a few days after a bath. This shampoo strives to eliminate this problem.
Good Things About Fresh&Clean Product:
Long-lasting fragrance: This shampoo will definitely keep your Frenchie safe from any bad odor for many days. It deodorizes your dog so well that the scent will remain on your dog for long. The ingredients used, such as aloe vera gel will give out a fresh smelling fragrance to your dog.
Keeps the fur healthy: The shampoo is also formulated to keep your dog's fur-free from any tangles and matted hair. It works as a conditioner even and keeps your dog's hair shiny and silky.
Contains antistatic agents: This shampoo contains antistatic agents that will leave your dog's hair free from knots and keep it manageable.
Naturally derived ingredients: This shampoo contains naturally derived components such as wheat protein which helps in strengthening your dog's fur. It works to reduce shedding of loose hair and protects the coat from dirt and infections.
It also has soothing agents such as vitamin E and aloe vera that soothe your dog's skin and keep him calm.
Long-lasting fragrance

Keeps the dog free from matted and tangled hair

Affordable pricing

This product is tear-free
It may smell like a medicated shampoo for some
The Fresh N Clean Pet Shampoo by Lambert Kay is an effective product to ward off bad odor from your French bulldog. It works really well in keeping your dog smelling good for long, along with keeping its skin and fur healthy. It also comes at a very attractive price and is widely used by many for its performance.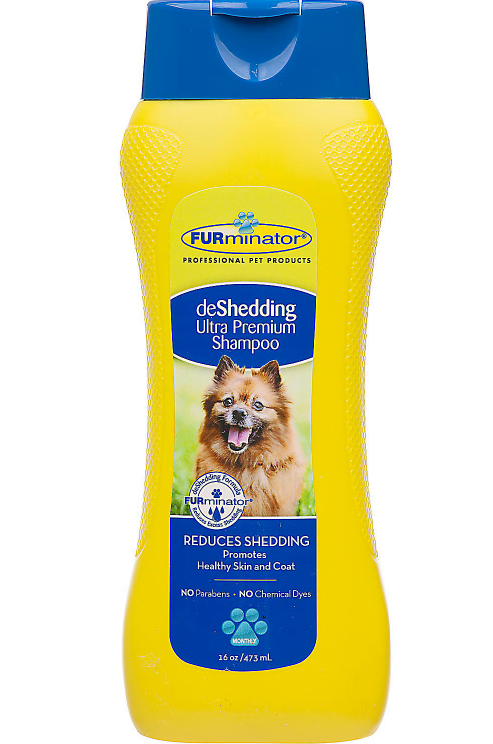 The deShedding ultra-premium dog shampoo by Furminator is a great choice for your French bulldog during the shedding season. It feels mild on the sensitive skin of a Frenchie and helps in protecting it from any skin allergies.
This product will reduce shedding drastically and keep the coat and skin healthy.
The Best Features of Furminator are:
Unique deshedding and cleansing formula: The ingredients used to make this product work best to wash off any unwanted loose hair of your Frenchie. This is most beneficial during the shedding season when the under-coat just begins to grow.
It detangles any loose hair and also gives the undercoat a thoroughly clean wash for its lustrous growth.
Omega 3 and 6 fatty acids: These fatty acids are highly beneficial for dogs with ultra-sensitive skin. The presence of these acids in the shampoo will give the required nutritional supplements to the skin cells and help in treating dry and flaky skin.
These fatty acids help in protecting your Frenchie against allergies such as fleabite allergies or food allergies etc.
Calendula extract: Calendula extract is widely known for its anti-microbial properties. Since French bulldog's skin are prone to infections, this extract will work perfectly to keep your dog's skin safe.
Calendula is a natural antioxidant and helps in healing wounds or scratches on the dog's skin.
Papaya leaf extract: The papaya leaf extract in the shampoo will keep your Frenchie's skin free from inflammation and skin diseases. It works to protect the dog against hair loss, which is very much needed during the shedding season.
It also has strong antioxidant properties which keep the skin healthy and lessens hair loss.
Aroma: This shampoo will keep your Frenchie smelling good and fresh for long. It has a fruity smell which will calm your dog while bathing.
Price is reasonable

Very effective de-shedding shampoo

Protects the skin from various infections

Deodorizes the dog and the fragrance is long-lasting

Gives a professional touch in the end
Product is not 100% natural or organic

May irritate the dog's eyes since it is not tear-free
The Furminator deShedding shampoo is a great choice if you are looking to reduce shedding of loose hair from your French bulldog. This is a great pick during the shedding season such as fall season. It is effective and gives a great combination of price, quality and performance.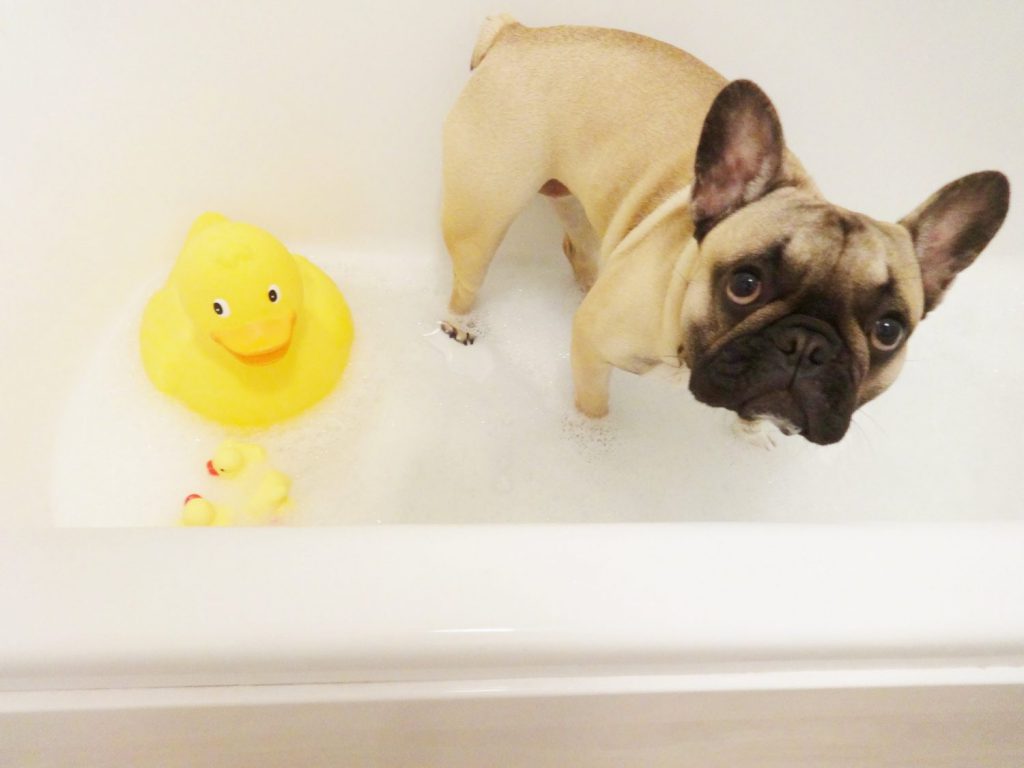 French Bulldog Bathing
How Often Should You Bathe a French Bulldog?
Advised amount of French bulldog bathing is 5 to 6 times a year. Frequent brushing is required as French bulldogs have a fine, short, and silky coat of hair. Brushing the hair will allow its natural oil on the hair and skin to get evenly distributed and maintain its natural shine. French bulldogs do not need regular baths as this can cause a loss of their natural oil.
All Frenchies are different, and their hygiene status can differ from one pet owner to the other. Frenchies, which spent most of their time outdoor, will need more grooming than those who stay indoors most times. Considering everything, you should bathe a Frenchie once or twice a month. Bathing it more than twice can result in the Frenchie losing its natural oil on its skin and hair.
Steps to Train French bulldog Bathing
Enter the dry bathtub, carrying the
favorite meal
for your Frenchie.
Cheer up your French bulldog until it starts taking steps towards you in the bathtub.
Continue is cheering up your dog and hold on it when it touches the bathtub
Dont Push If He Dont Like
The bulldog may want some help getting in the bathtub, therefore up raise it smoothly and note how it responds to the both uplifting and the meal. If your bulldog becomes resistant, cease the training and get him/her out of the bathtub.
Treat Frenchie by Bathtub
Lift the dog profusely and let it have fun eating the meal from the tub.
Show That Bath is Friendly
At this juncture, we are good to do an intro to the bath. Start with filling the base of the bathtub with water and squat in it.
Lift the Dog And Start Filling Water
Cheer up and lift your dog into the tub. Allow your dog to familiarize the perception of having its paws feeling the warmish water. Still, in the tub, begin adding some more water gently while avoiding splashing it to your dog.
The main objective is to get the Frenchie to adapt to the water in the bathtub. Cheer up your Frenchie to make it feel comfortable and less terrified of the experience. Focus on getting your dog to touch the water with its tummy without expressing signs of being nervous.
If you note that your dog is becoming terrified, pause for a while and get it out from the bathtub immediately, wet him/her off carefully. Cheer it up for its bold movements, play with it, then try the same another day. Smoothly with some water in your hands, splash it over the back followed by the nose as well as the head.
Pause at any moment, the dog looks terrified. When your French bulldog familiarizes with the cupping water, add a minimum quantity of soap, in which you will be rinsing it off later on in the bathtub. With time, following the simple steps discussed, you will get your dog having fun taking a bath. All that matters is the perception of your dog towards bathing.
The Basics of Bathing a French Bulldog
It would be best to have lukewarm water, soap, or shampoo and your dog's towel ready before bathing it. Always remember to start with the Frenchie's face. With so many wrinkles on its face, it is prone to yeast and bacterial infections. A French Bulldog has many wrinkles on its face, and you should try to keep them dry, cleaning between the wrinkles frequently. After cleaning the face, pour lukewarm water on its body until it is thoroughly wet. Then, apply shampoo or soap and gently rub it all over from its head to its toes. Now wash off the shampoo thoroughly and let your Frenchie dry.
You always want your pet to be clean and hygienic, but it is not advised to bathe your Frenchie as often as you wish. You will need alternatives to keep it neat and clean in between baths.
Some Alternatives to Bathing:
The use of wet wipes: Wet wipes are one of the most popular alternatives to bathing, as they are perfect for wiping off debris or surface dirt. You can use wipes specially made for dog cleaning / bathing. These wipes are safe for Frenchies and owners. We advise you to use these below:
Regular brushing: Since they have a short and thin coat of hair, many owners neglect this method. It is the best way to keep your French Bulldog clean and tidy. Brushing its hair will make it look better and also help its natural oil to distribute evenly on all parts of its body.
Dry Shampooing: This method is excellent to help your Frenchie smell well. Apply a dry shampoo on its hair and brush it evenly to make sure it covers the whole body.
Keeping its bedding hygienic: You should frequently wash the dog's bedding so that it does not smell bad. It would help if you also dried the bedding in the Sun often. 
You should also frequently clean their face, mouth, ears, and tail pockets to prevent infections and odor.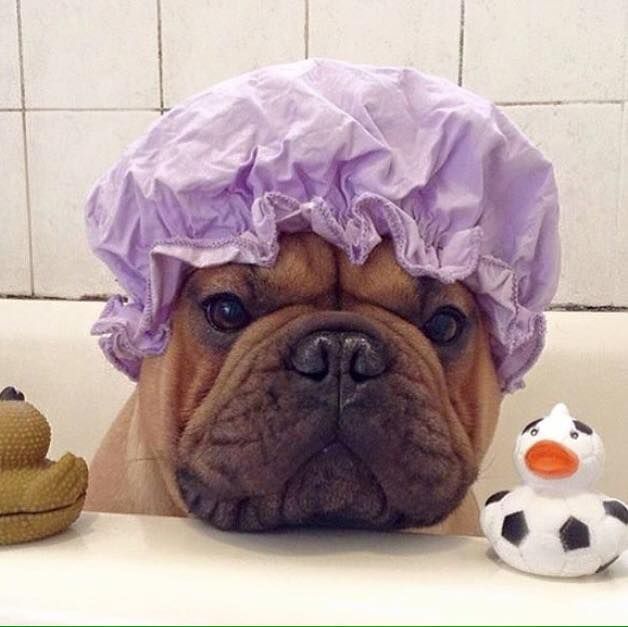 Conclusion
Shampoo for French bulldogs should always be chosen based on the skin and fur condition of the skin. Some dogs may have ultrasensitive skin, such as the French Bulldog, while some may have other underlying skin conditions. Best French bulldog shampoo is natural and approved by vets.
The sensitive skin of a French bulldog demands utmost care in choosing the shampoo that best suits its skin needs. A harsh shampoo that is not pH balanced for its skin type may react wildly on its skin. Dogs are happy when their overall body and skin conditions are good and healthy.
Was This Helpful?
Be honest and help us become better to our readers! 🙂