French bulldogs are undeniably one of the cutest pets to have. Their irresistible short face, flipping ears, and affectionate personalities make them one of the most popular dog breeds. They are adaptable to weather and food, but ensuring that they have a proper wet dog food diet is essential to keep them healthy.
There are plenty of wet dog foods in the market, but they're not all that great. Honestly, some are often over-commercialized and over-priced. To choose the best wet dog food for a French bulldog, you need to know more about the Frenchie and their diet.
Wheezing, sneezing, snoring, or coughing is some of the attractive characteristics of the Frenchies. But they can also be indicators of serious health problems caused due to wrong diet or proper food habits.
To ensure that your Frenchies are healthy, happy, and enjoying the food they eat, read on to know which, and how much you should feed them.
Best Wet Dog Food For French Bulldogs
1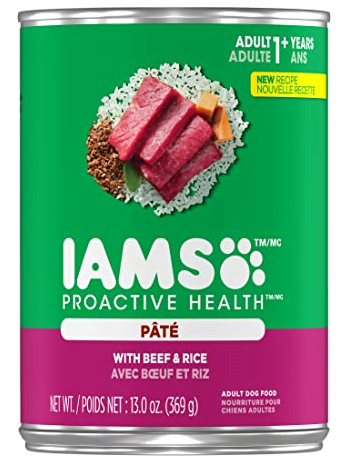 IAMS Proactive Canned Wet Food
Check on Amazon
2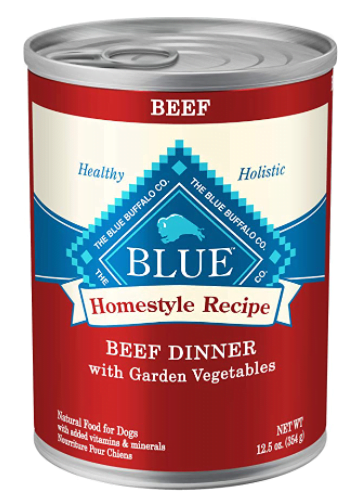 Blue Buffalo Wet Dog Food
Check on Amazon
3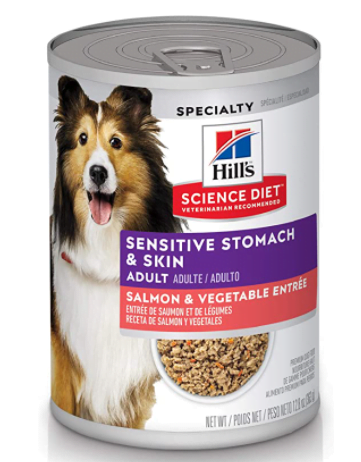 Hill's Science Diet Wet Dog Food
Check on Amazon
Why Choose Wet Food For Your Frenchie
Reasons why Wet Food is good
When it comes to food for Frenchies, wet dog food is better than dry food for many reasons. They are:
Wet food has a stronger smell than dry food. They are especially suitable for French bulldogs as their sense of smell is highly compromised because of their face structure. Aromatic and juicy flavor in wet food makes it more appealing to them.
Wet food has high water content, so it is easier for them to digest. It prevents constipation and UTI problems. It also prevents gas and bloating.
For dogs, wet dog food is more satiating than dry food because it keeps them full longer. There is more flavor, and it fills them up faster.
Wet food is much better for Frenchies because the mushy texture is not harsh on their teeth and gums. They can chew and digest it better than dry food, so it is even suitable for old dogs.
All dogs love wet food more than dry. And Frenchies are no different. Even if they look like small piggies and bats.
Detailed Reviews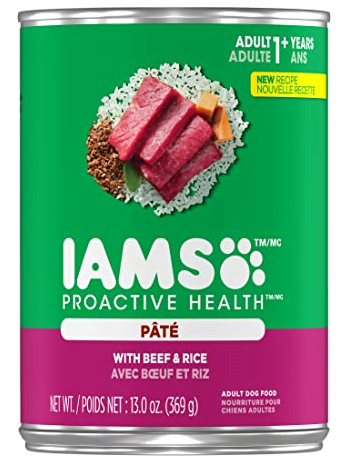 Although Frenchies do not require as much exercise as other big dogs, they need daily exercise. You can take them on short walks and play around to prevent obesity, along with proactive food.
Since Frenchies gain weight quickly, it is vital to keep them active. But keeping them playful and energetic becomes a challenge when they don't get the right nutrition from their diet.
IAMS Proactive wet dog food ensures that your dog is getting the daily supplement of all the nutrients they need. The main ingredient is animal protein, vitamins, and minerals that support your dog's nutritional needs.
You will also find that the pate type of food contains natural ingredients rich in omega fatty acids that promote healthy skin and coat.
What makes this dog food stands out from the rest is probably the flavor. All the ingredients are slow-cooked in real broth to ensure that every bite is delicious and healthy.
Even though dogs don't complain about the monotonous food, you will immediately see how please they are with the refreshing flavor.
If your dog has been showing signs of laziness and sad eyes, it will look more energetic and get back the lustrous eyes and soft coat after a few days on this diet.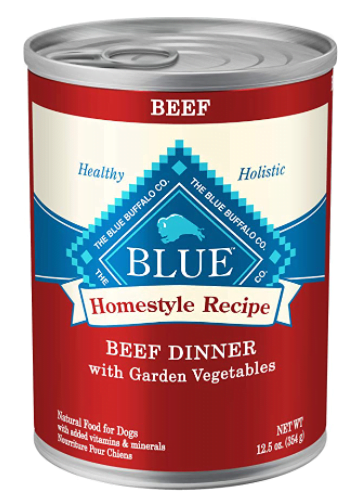 No matter how healthy and nutritious food is, it's not easy to feed it to the pets unless they like the taste. So taste is another feature you must look for while getting them the food they need. This wet dog food for adult dogs is perfect for your Frenchie because it is not only pleasant on the taste buds, but is also rich in several nutritious values.
One of the main reasons your dog will love this wet food is the taste. It has the natural flavor of high-quality protein derived from beef.
The pate-style wet dog food can be used as a treat or as a whole meal. You can even mix it with the favorite dry food to give it some texture and taste.
Unlike other pet food with lots of preservatives and added flavor, this is all made of natural ingredients. It has real meat and protein from the best vegetable garden.

Since French bulldogs are prone to rheumatism and arthritis as they grow older, it is vital to feed them a diet concentrating on muscle maintenance.
The natural ingredients in the food, such as carrots, peas, sweet potatoes, will give them the vitamins they need.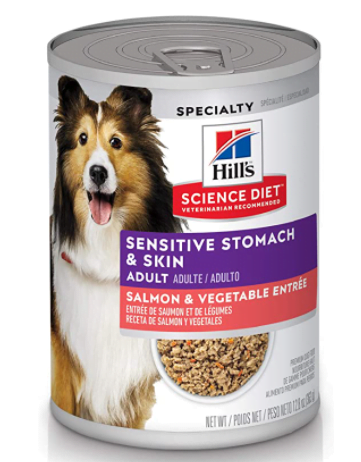 French bulldogs have a short coat and usually sensitive skin. When they don't get enough nutrition from their diet, it starts showing in their fur's texture. It can result in unusual fur shedding and expose their skin to several skin problems.
Hill's Science wet food is one of the best pet food for adult Frenchies that make sure that your dog's fur and skin are healthy throughout the year.
The main ingredient is chicken, and all dogs love chicken so you can rest assured that taste and nutrition remain. Since chicken is also friendly on the digestive system, it is even suitable for old dogs with a sensitive digestive system. The natural fiber content in the food is also a bonus to ease the stool movement.
Hill's Science dog food has plenty of Vitamin E and omega-6 fatty acids, which are essential for healthy skin and hair.
So if you feel that your dog is shedding more than usual, or its skin is dry and flaky, this wet dog food for French bulldogs will quickly solve the problem. Instead of investing in expensive supplements, a daily diet that's rich in natural fatty acid will do wonders for soft, healthy fur and skin.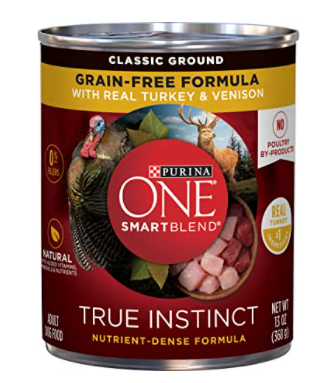 French bulldogs are prone to developing allergies, hip dysplasia, respiratory problems, and thyroid issues. As much as we love our pets, we can't always protect them from genetic health issues. However, we can prolong the onset of these diseases by strengthening their immune system.
Purina One is such brands that focus on providing tasty and healthy wet food for dogs to strengthen the immune system. This line of wet dog food enhances the instincts of dogs with anti-oxidants and highly nutritious ingredients.
The anti-oxidants improve their immune system while the venison and turkey meat provides protein to balance the muscle mass.
Your dog is sure to love the flavor of all the natural ingredients which protect and nourish their immune system.
This wet food does not contain any poultry by-products or artificial color. It is also gluten-free, so you don't have to worry about food allergies, which some dogs are prone to.
So if you are looking for the right diet that protects, nourish, and boost your dog in a wholesome meal, this is definitely one of the tastiest dog food around.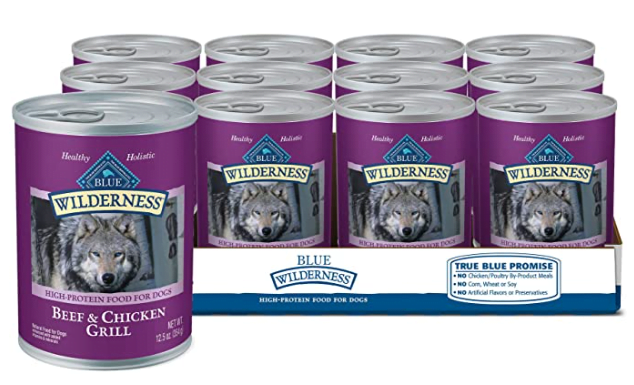 Lately, USA family owned company Taste of the Wild become very popular among French bulldog owners. And there is no miracle or surprise. They don't have a big advertisement budget, but they do have fantastic products, especially for Frenchies.
Taste of the Wild wet dog food for Frenchies contains natural and specially scientifically researched ingredients. They discovered that dogs DNA is similar to wolves. To make your Frenchie live longer and healthier, this formula will be perfect.
This food contains all you need for you French bulldog even with sensitive stomach – Nutrient rich, highly digestible, minerals, vitamins, hard-working antioxidants, fatty acid for skin etc.
Made With No Grain, Corn, Wheat, Filler. No Artificial Flavors, Colors, Preservatives Added in product.
Most of the Frenchie owners use Taste of the Wild wet food in change of the same manufacturers dry food. Feeding every day with wet food could be expensive, but its good to make some changes and give your dog a tasty wet food portion.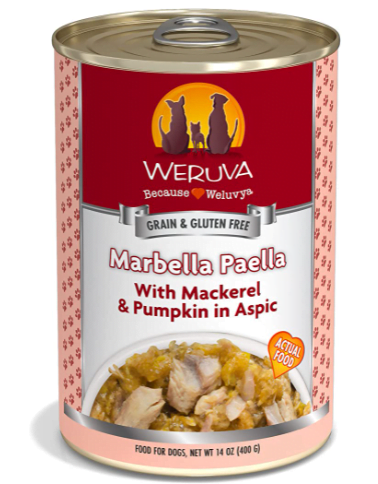 As stated earlier, dogs require a considerable amount of omega fatty acids in their diet for soft fur and good skin. It is also crucial that they have natural ingredients and fish, as we all know, is rich in omega fats. So what better way to combine nutrition and taste than feed fish-flavored food to our little buddies?
Weruva combines all the nutrients of fresh mackerel with natural vegetables to provide a balanced diet for all dogs.
Most dogs like the taste of fish, and you will notice how easily they adapt to this flavor. It has a pleasant smell that makes it look delicious. Even a picky eater will probably like this wet food.
The company assures that the fish are sustainably sourced from farms, and they are 100% gluten-free. There are no bones or grains so your dog can safely savor the food with other dry food.
It is high in protein, and low-in unsaturated fats, which is a bonus for over-weight dogs. All the nutrients provide enough vitamins and minerals for healthy gums, teeth, bones, and fur.
So if your dog needs some extra care and nutrition daily, this balanced meal is a perfect combination of quality and taste.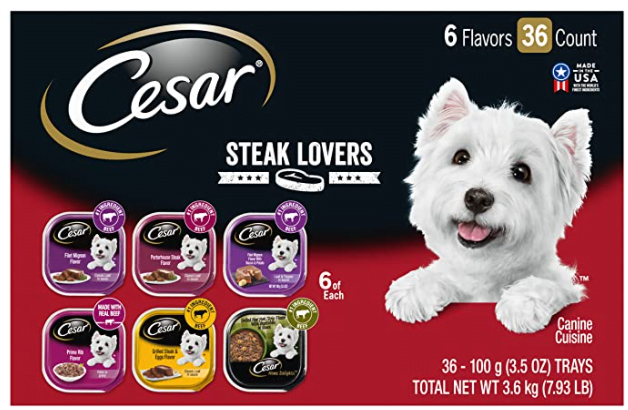 While some Frenchies can adapt to any type of food, some are more difficult to please. Ceasar gourmet food is perfect for the pooch with expensive taste. This dog food is specially designed to enhance the palate while providing sufficient nutrition in every serving.
The main ingredient is meaty steak, which is guaranteed to your pooch a lot of pampering. There are so many varieties of flavors to pick, and they are all packed with highly nutritious ingredients.
Besides the sophisticated flavors, you and your Frenchie will love that it comes in a convenient package. You can feed it directly from the container without creating a mess or picking it in morsels.
While most extravagant dog food often makes them gassy because of the preservatives and artificial flavoring, this one goes easy on the digestive system. It has natural meat prepared with utmost care.
Dogs are sensitive to artificial ingredients, so if your dog is picky, it might refuse to it. But will this gourmet meal, you will notice how excited they are when it comes to treat-time.
Fortified with nuts for the good fats and real meat for protein, it is a balanced diet fit for small to medium-sized dogs.
So if your dog has been down lately and has a low appetite, maybe it's time for some extra special pampering with this delicious gourmet.
Feeding Requirement for French Bulldogs
Like dry food, wet dog food requires feeding in balance. While you might get tempted to feed whenever your pooch is a good dog, it is not always healthy. So when it comes to feeding requirements for your Frenchie, here are a few points to remember.
Make sure that you divide the feeding schedule to at least two times per day.
Remember to keep a fresh bowl of water near the food bowl
Depending on the weight and nutritional requirement, divide the daily needs into two big meals or four small meals.
Since they need a balanced diet, switching between different brands, flavor and texture is a good idea.
For better measurement of wet food, refer to the chart below:
| | |
| --- | --- |
| Dog's weight- lbs (kgs) | Amount per day – 12.8 oz (363 g) cans |
| 5 (2,3) | 1/2 |
| 10 (4,5) | 1 |
| 20 (9,1) | 1 or 1/2 |
| 30 (14) | 2 |
| 40 (18) | 2 or 2/3 |
| 50 (23) | 3 |
| 60 (27) | 3 1/2 |
| 80 (36) | 4 1/3 |
French Bulldog Nutrition Requirement
As we said, they are adaptable, but not always for their good. So as pet owners, it is our responsibility to feed them a balanced diet.
Some essential nutrients to look out for a while buying pet food are:
Like all other dogs, Frenchies are canine, and meat is an integral part of their daily diet. Whole meat should be the first ingredient of their food, and it should not contain preservatives. Frenchies love meat like lamb, chicken, fish, and beef.
Protein is another essential nutrient that Frenchies need in their daily diet. There are numerous protein based dog food, but usually made artificially. Look for plant-based food as they are more wholesome and healthier than supplemented ones. Lentils and peas are good sources of a natural protein, and they are hypo-allergens too.
It keeps their digestive system healthy since they are easy to digest.
Conclusion
All dogs require special attention when it comes to their diet. Dog parents need to remember that all size does not fit every dog. Although Frenchies are low-maintenance, food plays a vital role in their life span. All the mentioned wet dog food for French Bulldogs is sure to excite and nourish your pooch, but before you pick your favorite, make sure to watch out for special needs to avoid over-feeding.
Thank you for reading ourfrenchie.com articles.
Was This Helpful?
Be honest and help us become better to our readers! 🙂