The French bulldog is a compact and friendly breed. Such breeds of Dog have a mild-mannered temperament. They are a companion dog, which attracts a lot of people towards them. They have been a source of happiness, love, and friendship for many owners. That is why we love to celebrate French bulldog birthday with proper party supplements.
Every Dog has unique preferences and requirements. When it comes to birthday ideas and anniversary, it is not easy to decide which one to pick. Many online stores avail various birthday ideas for your pup friend. You can look at some items on the list for your French bulldog Birthday party supplies.
1. Bandana, Cute Bow, Scarf, Head Banner Set
Some brands use innovative ideas to include essential items together in a box. For instance, such a birthday set would consist of:
One shimmery birthday hat
The hat height is 4.7″. The fabric used on the hat is pressure resistant. It keeps the cap from deforming easily. The band can stretch up to 9 inches to 13.3 inches.
One birthday scarf for Frenchie
The measurement of the triangle scarf is 26″ x18″ x18″. The material is double-layered cotton, which makes it washable and comfortable.
One charming bow tie
There cannot be another cute and adorable idea than making your furry friend put on a bow tie. Such items come at adjustable length from 10″ to 13″. You can also use articles like the bow tie and bandana for other future occasions. It also comes with an elastic strap and can stretch from 9 inches to 13.3 inches.
Happy Birthday Banner
Such gift ideas also come with birthday banners to complete the set. The placard can be 47.7″ – 116″ long. The material is sturdy and shimmery as well. Such an adorable birthday decoration will light up the celebration.
The reviews about such items are positive. Many people enjoyed the set and used it for other occasions as well.
2. Birthday Gift Box – 3 Toys For Frenchie
The birthday box gift consists of various useful toys for your French bulldog. The items found inside the gift box are suitable for use on different sizes of dogs. The toys and treats are soft, yummy, lovable, etc.
Yummy Treats – Frenchie will Love
The birthday cake toy is squeaky and soft. It will allow your pup to play with it for hours without disturbance. You can rest assured that your French bulldog will thoroughly enjoy themselves.
Soft and squeaky
The gift box includes a birthday hat and two squeaky toys. The cap has an elastic band that can fit into the head of all dog sizes. The whole package comes in a cute gift box.
Fun birthday gift
Such chewable and soft toys are perfect for playing with a child or pets. It also makes for an ideal gift for events and birthdays. The addition of birthday parties hats and festive balloons makes for an even better combination for celebration.
Product quality
Such toy sets have excellent quality and design. Toy companies are on the lookout to produce toys that are soft, healthy for use, and affordable. The durability of such items is long.
Design ideas
Toy companies make sure to manufacture toys that are innovative and creative. They do not compromise on quality and design. It is the best option to let your paw buddy enjoy toys for the longest time.
3. Dog Theme Party Game
The gift box is fun for kids as well. It contains all things dog themed with beautiful colors. Inside the box, you will find the game, pin the bone with 20 pink bone stickers, and a large dog theme poster. The various features of the product are:
Material of French bulldogs Birthday Game
You can use such posters as wall decorations after the celebrations are over. The manufacturers use high-quality paper to manufacture the design. Such an ideal paper quality has protected film and is safe to use. It is also interesting to note that the materials are environmentally friendly, so there is no harm to your kids or your puppies. Such products are an ideal choice for celebrations.
Contents of one set 
The measurements of the dog poster are 30 inches high and 20 inches wide. Other items include
10 glue points
2 eye masks (one pink and one blue)
1 dog theme poster
20 blue and pink bone stickers
How to play Frenchie game
Using the self-adhesive dot, you can stick the dog poster to the door, wall, or other concrete. Wear the eye mask and try to stick the bone to the dog sticker. Whoever brings the bone closest to the Dog wins the game. Such recreational games are entertaining and fun-filled. 
The bone sticker is re-usable. You can peel it off from the wall and stick it to other DIY bones for other games.
Uses
You can use it for many purposes like:
Classroom activities
Children's birthday parties
Pet party games – French bulldog Birthday
4. Dog Cupcake Toppers
Another perfect idea for your furry French bulldog celebration is to use cupcake toppers with carvings of dogs. It has gold puppy cupcake toppers that shimmer, giving it a celebratory appeal. Such decorative pieces are usable for various occasions like a baby shower, Dog's birthday, children's birthday, etc. 
A food-grade bamboo picks hold each glittery decorative piece. It is essential to know the features of such products.
Material
The topper has quality materials. It has a single-sided glitter cardstock. The backside of the topper sticker is white, which helps to make it look clean. 
Size
The decorative sticker comes to about 2 inches. The toothpick stands at about 3.5 inches. The products come already assembled, so you do not need to worry about setting it up. 
Package contents
There are 24 pieces of cupcake toppers. The total number contains three styles divided into eight parts each.
5. French Bulldog Garland and Decoration Banner
Fantastic decoration for French bulldog birthday party. It is a fun decorative piece for all French bulldog lovers. The quality is robust, lasting for a long time, and the perfect item for celebrating dog birthdays and other occasions. It is a pure made in the USA product.
The garland piece has slurping and happy French bulldog faces on both sides. All faces are wearing a hat. You can suspend it from a ceiling, decorate the walls, or put it up on the DIY photo booth. You can also reuse it for other occasions as the material has heavy card stock on both sides.
The measurement of each head is approximately 8″ x 6″. You can also use it as a gift for birthdays and other memorable puppy celebrations.
6. "Let's Pawty" Cake Topper
It is hard to find cake toppers customized to match your needs. The "Let's Pawty" topper is ideal for using on any celebratory cakes. Your French bulldog and all invited guests will appreciate this kind of birthday cake topper. The manufacturers use premium black glittery paper cardboard for the words. Food grade bamboo sticks hold it to stick into the cake. 
The decorative piece has a dimension of about 7.5″ x 5.5″. The size of the item is big enough to compliment the cake when put together. You can also adjust the height by stacking it deep into the cake or trim the stand a little. Besides cakes, you can also use it on fruits, cupcakes, food items, and muffins.
7. "Woof Let's Pawty" Banner For French Bulldog Birthday Party
DIY decors are standard these days for various celebrations. However, it is not always that easy to do everything by yourself. There is so much to do, and you cannot give your time to every small detail. If you are celebrating your Frenchies birthday or anniversary.
Sometimes its order ready-made decor than make it by yourself. Lets Pawty will fit perfect in French bulldogs party concept.
8. Miniature French Bulldog Figurines Cake Topper
Another cool cake topper with miniature French bulldog. Well-made and cool looking. Package contains 2 cake toppers, great if you have 2 Frenchies born in one day. So you can make 2 cakes for them.
Frenchie cake toppers are eco-friendly and good-looking. Here is picture of happy customer: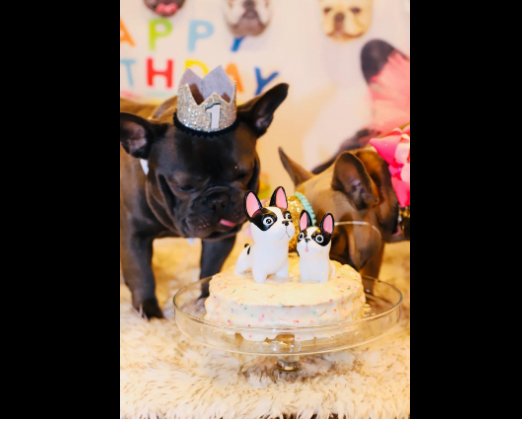 9. Paw Prints-A-Round Biodegradable Latex Balloons
Decorate French Bulldog party place with Paw label balloons. They look good and after party you can give them to your Frenchie to play around. Most of the dogs love catching balloons.
Made from 100% Natural Biodegradable Latex with no added fillers. Mix them in other balloons or alone, but they will make party look like for dog.
10. Squeaky Birthday Cake Toy
Sometimes small things make French bulldogs happy. Just like the cartoon box that doesn't cost a thing. This squeaky cake toy will be good adjustment for Frenchie Birthday party. If he does not eat cake, least he will love cake toy.
Quality is good and buyers love this toy. Same for reviews – 95% customers are very satisfied.
We hope that you found most fitting party supplement ideas for your French bulldog birthday. We are always happy to help our community.
To check our list of best toys for French bulldog, click here.
Thanks for reading ourfrenchie.com articles.
Was This Helpful?
Be honest and help us become better to our readers! 🙂