Royal Canin partners with pet health experts to formulate specific diets for specific dog breeds. This time French bulldogs. The company takes into account all the factors of different breeds to provide them the best nutritional diet for healthy growth.
They have various unique-shaped kibbles designed for the convenience of every breed.
Royal Canin dog food also comes in a mix of dry and wet food, each incorporated to give your pet countless benefits.
Royal Canin Cares French Bulldogs
The Royal Canin French bulldog food is formulated to provide nutrients to these adorable, yet delicate pets to make them healthier and help food digestion. It has two specific diets, namely, Royal Canin French Bulldog Adult Breed Specific Dry Dog Food, which is meant for the adults who are a year old and above. And the second one is Royal Canin Breed Health Nutrition French Bulldog Puppy Dry Dog Food which is formulated especially for puppies below one year.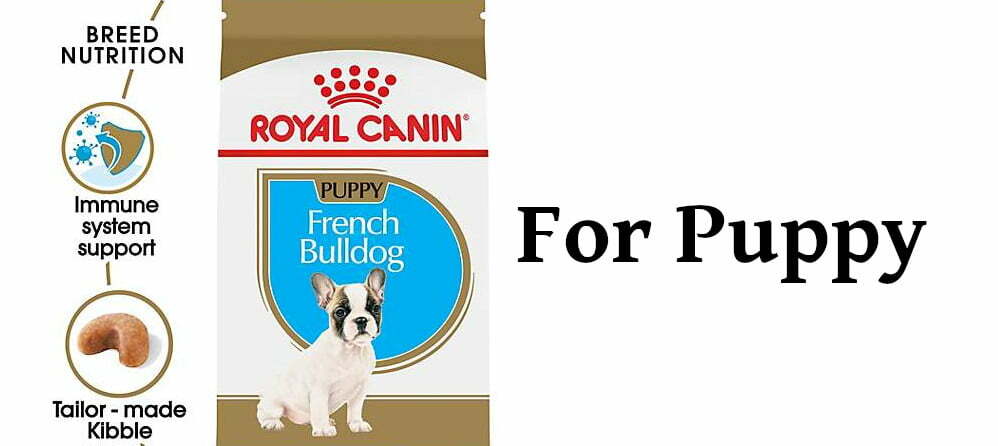 Royal Canin Breed Health Nutrition French Bulldog Puppy Dry Dog Food
This Royal Canin puppy food is exclusive nutrition made for pure breed French bulldog puppies.
This unique diet has all the necessary nutrients especially formulated for the adorable little French bulldog puppies. It contains exclusive specific nutrients for French bulldog puppies to enhance their growth and prevent various health problems that this breed is prone to.
This puppy food also comes in a cashew nut shaped kibble, which is uniquely created for French Bulldogs. Due to their short and flat snout, Frenchies face problems when eating out of a bowl. This cashew shaped kibble goes perfectly well with the pet's flat snout and under bite and helps them to pick them up easily.
All Nutrients Frenchie Puppy Requires
While in their growing stage, French bulldog puppies need a lot of nutrients to keep them healthy and energetic. The Royal Canin dry puppy food contains vitamin E as well as an exclusive combination of antioxidants. These ingredients facilitate healthy growth in your puppies and strengthen their immune system to fight off infections and diseases.
The formula also contains specific breed nutrients that aid in healthy skin and prevents skin irritations and allergies in these delicate Frenchie puppies.
The Royal Canin manufactures the French bulldog puppy food with extreme care. It has an excellent mix of good carbohydrate sources, an exact amount of fiber, and rich proteins. These components do a great job in aiding digestion and reducing gas and smell from your French bulldog puppies. It also gives them drier and firmer stool.
Royal Canin Cares Frenchies in Every Age Stage
Royal Canin not only cares about your puppy during its tender age, but it also has another special diet formulated for your puppy when they cross twelve months. Once they cross over to adulthood, you should replace your French bulldog's diet with Royal Canin Adult dog food.
The formula is 100% guaranteed to satisfy both you and your pet. The long and furtive research done by Royal Canin finally paid off as their products are now regarded as a French bulldog's best friend.
Pros
The perfect sized kibble makes it easy for your French bulldog puppies to pick and chew.
It significantly reduces the strong odor of your puppy's gas and stool.
It also helps the underweight puppies to gain muscle and develop a more effective immune system.
The mix of vitamin E and antioxidants in the puppy food ensures that the puppy gets all the required nutrients to have healthy growth.
It provides the puppies with a shinier coat and reduces dandruff.
Many customers feel that it is a great value for money.
Cons
The majority of the customers feel that it would have been more efficient if the puppy food came in a larger packet as it gets over too soon.
It has chicken by-product food, which may not go very well with some French bulldog puppies.
The package is not returnable.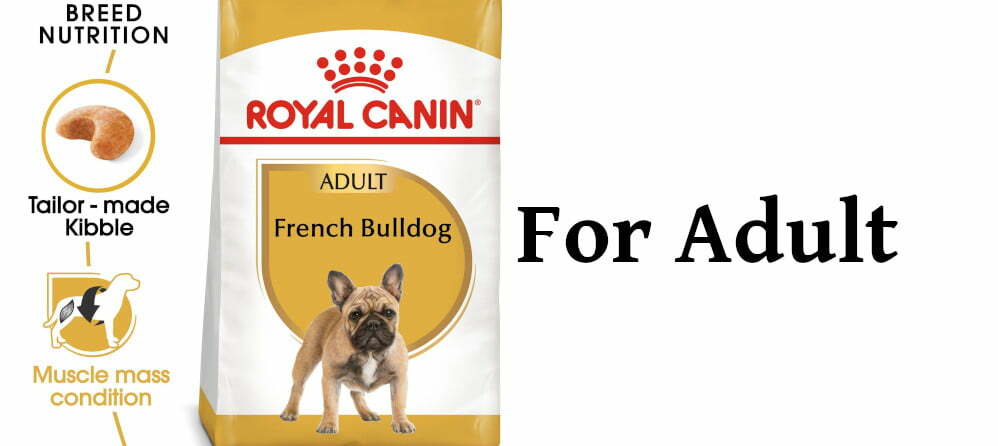 Royal Canin French Bulldog Adult Breed Specific Dry Dog Food
This dog food has rich nutrients specially formulated for pure breed Frenchies to make them healthy and active. This food meets the nutritional requirements for pure breed French Bulldogs that are twelve months and above.
The customized half-moon-shaped kibble is uniquely shaped for your Frenchie's flat snout and under bite. This makes it convenient for them to pick it up from the bowl and chew.
The Royal Canin dog food contains an adequate amount of protein and L-carnitine, which ensure the development of healthy muscles in your French bulldog. It maintains muscle mass in the French Bulldogs and makes them more fit than ever and gives them added energy to thrive happily.
Happy Frenchie, Happy Owner
Food also benefits the skin of your pet as the barrier of the skin is reinforced by exclusive nutrients. It reduces skin problems such as hot spots, rashes, and hives and promotes healthy skin.
There is also a blending of rich carbohydrate sources, an adequate amount of fiber, and easily digestible proteins. French Bulldogs are reputed gas blowers as they have a very sensitive digestive system. This combination of high-quality nutrients help in easy digestion and prevent stomach bloating and gas build-up. It also significantly reduces your pet's gas and stool odor and give them firmer and drier stools.
Read article about best dog foods for French bulldog here.
Royal Canin is one of the top trusted dog food brands with almost 50 years in pet service. The consistent researches and tests help the company to target the precise amount of nutrition necessary to keep your pet at its best health.
The Royal Canin dog food also comes with a satisfaction that is 100% guaranteed. You can be sure that the Royal Canin dog food will serve you both and your French bulldog a bond and benefits to last a lifetime.
Pros
The Royal Canin dog food is easily digestible and, therefore, eases your French bulldog's sensitive stomach.
The formula helps your Frenchie to get relief from allergies and skin problems such as rashes and hives.
Due to its nutritional values, it is often recommended by vets.
The unique shape helps your Frenchie to pick up the kibble from the bowl easily.
It is not only healthy and nutritional but also tasty and delicious.
It reduces the smell of gas and eliminates bad breath.
Cons
There are rare case reports of older Frenchies being allergic to this dog food.
It has an expensive price tag.
Not all the French Bulldogs like the taste of this particular dog food.
Wet Dog Food From Royal Canin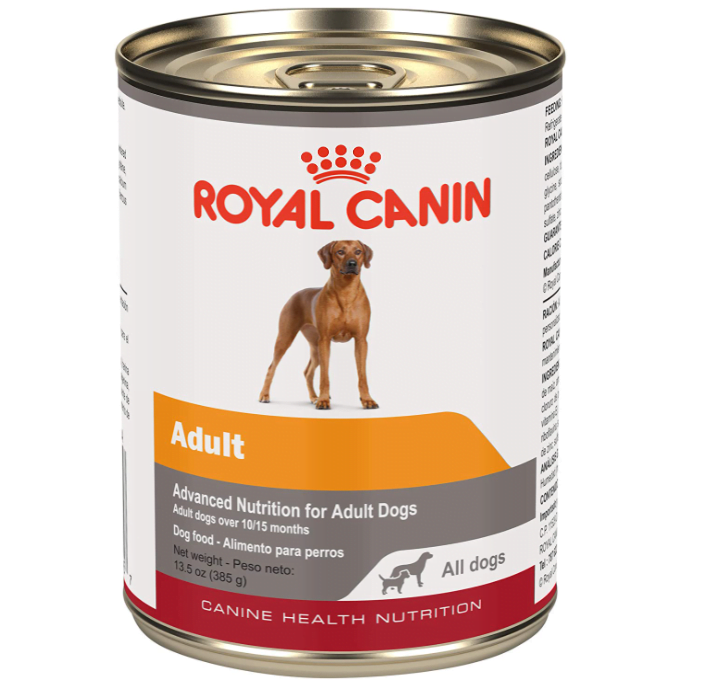 If your Frenchie loves wet dog food more than dry food. Or you have decided to make daily diet more rich, than "Royal Canin Canine Health Nutrition Adult" might be just for you. This wt dog food you can feed Frenchie from 10/15 months. Company guaranteed 100% satisfaction.
From 1000 reviews, this product got 4.7 out of 5 stars. Which is very good result. If we compare dry foods than there are companies that outruns Royal Canin, but in case of wet dog food they are making very good quality product.
Most of the buyers like this product so much that they are willing to buy a case of canes next time.
And just like other reviewer Frenchies, our Frenchie also loved this Royal Canin wet food. But us you might notice every dog loves wet food more than dry food.
So, yes, we truly advise you to test this wet dog food and comment here your experience. From what we have tested and what we have read, almost everyone is satisfied. There are only few customers which got delivery issues, but not product.
If you are interested more in wet dog food, we suggest read this article.
Wrap-Up Royal Canin For French Bulldogs
Royal Canin provides what is best for your Frenchie, be it an adult Frenchie or a puppy. French Bulldogs are usually quiet companions and are moderately active. This lovable dog breed needs a healthy diet along with light exercises to keep them fit and active.
Royal Canin French Bulldog food is carefully researched to meet the needs of your dog and ensure a healthy lifestyle.
Both of the above products are dry dog food, which means that there is a high concentration of nutrients necessary for your dog to thrive.
If you are looking for reliable dog food which will not upset your French bulldog's sensitive digestive system, Royal Canin French bulldog food would be a wise choice.
Was This Helpful?
Be honest and help us become better to our readers! 🙂